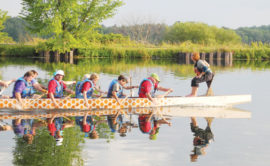 Cornwall WaterFest Returns To Historic Cornwall Canal This Saturday
August 8, 2014
Cornwall Ontario – Staged at the historic Cornwall Canal, Cornwall WaterFest has quickly
grown to become one of Cornwall's most popular summer events.
This year's edition of the festival will be held on Saturday, August 9th beginning at 8:30 am at Lock 19 (Second Street West and Power Dam Drive, near the Kinsmen Soccer Fields).
The free event will offer something for everyone, with dragon boat races, live music, artist and food vendors, mini-putt, and more!
A total of 16 dragon boats will be racing over 200 metres across the canal during the event, which supports the Heart and Stroke Foundation. It's a fun day for participants and spectators as well.
"Each team will be rowing for the cause, camaraderie and bragging rights," said WaterFest co-organizer Rebecca Runions.
The entertainment lineup includes the MacCulloch Dancers (10 a.m.), magician-mentalist-illusionist David Jans (10:30 a.m.), Zumba with Crystal (11 a.m.), singer/songwriter Graham Greer (11:30 a.m.), BCDC Dance Group (12:30 p.m.) Mandee Woods and Band (1:00 p.m.), Celtic Fidlin' with Rebecca (2 p.m.), Jody Marsolais – The Rhythm Room (3 p.m.), and the Keegan Larose Band (3:30 p.m.).
The ArtFest component of the fundraising event starts at 9 am and it will feature over 25 local artists selling a wide variety of items.
Cornwall Transit Drop-Off
To assist people in getting to the event, Cornwall Transit will be diverting its Riverdale route on Saturday, August 9th to pick up and drop off passengers near the site of the festival.
"WaterFest is a great community event and we want to make it easy for residents to come out and enjoy these great activities right in our own backyard," said Transit Manager Len Tapp.
For more information on Cornwall Transit routes and schedules, click here.
The proceeds raised from the event will go towards implementing Automated External Defibrillator (AEDs) throughout the area and life-saving Heart and Stroke research.
For more information on Cornwall WaterFest, click here.
Categorised in: Arts and Entertainment, General, News