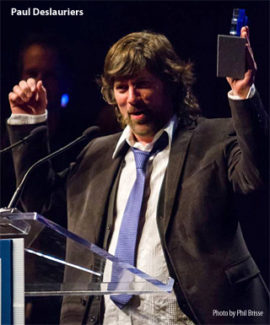 Cornwall's Paul Deslauriers : Canada's Top Blues Guitarist
January 23, 2014
Cornwall Ontario – Cornwall's Paul Deslauriers was recognized this week as Canada's top blues guitar player at the 17th Annual Maple Blues Awards ceremony in Toronto. It was not the only accolade sent Mr. Deslaurier's way that night: he and long-time collaborator Dawn Tyler Watson were also voted Best Acoustic Act.
"I am overwhelmed and still in shock!" said Mr. Deslauriers. "BIG thanks to the Toronto Blues Society for putting on such a wonderful gala at Koerner Hall"
The Maple Blues Awards is Canada's national blues awards program. Its goal is to promote blues music across Canada, and to recognize outstanding achievement in the field. Award nominees were selected by a distinguished panel of some 50 blues experts, and winnners for most awards were selected by blues fans across the country.
A virtuoso on both electric and acoustic guitars, Cornwall native Paul Deslauriers has had a diverse and accomplished career. He studied classical violin at an early age before turning to the guitar when he was 10.  An early and continuing inspiration was Rod Robillard, a fixture on the Cornwall music scene.
"Rod was THE guitar guy in town and a mentor to most of us," says Mr. Deslauriers. "He sat in with the band when we played Cornwall a few months ago. It was a great moment."
Mr. Deslauriers graduated La Citadaelle high school and then left Cornwall at the age of 18 to study music at McGill University. He soon gained acclaim in the 1990s as a founding member of Black Cat Bone, deemed by many critics at the time to be "one of Canada's hottest blues-rock bands." He has been called upon to share his guitar and vocal talents on tour with the likes of The Respectables, Amanda Marshall, France D'amour, Garou and Nicola Ciccone, to name only a few.
"Music is about learning and respect," says Mr. Deslauriers. "I come from an improvisational background and so you learn to be ready at all times to adapt to the other artists on stage."
For the last several years he has teamed with singer/songwriter Dawn Tyler Watson, one of Canada's most accomoplished blues musicians. Their first album, En Duo (2007), was released to rave reviews. From Moscow and the Big Easy to the North Pole, they have enjoyed sold-out live performances and have also opened for artists such as Buddy Guy, Derek Trucks and Bruce Cockburn. Their sophomore album Southland (2013) saw them revisiting their own brand of feel-good, back porch style music with a few new twists.
Mr. Deslauriers has also released three solo records: Limited Edition EP (2003), Ripping into the Red (2006) and Left's Alright (2013).
"Deslauriers really knows how to grab your ears from note one," said Michael Molenda, Editor in Chief of Guitar Player Magazine. "He's also a gifted songwriter and vocalist, and his solos, especially the slide lines, are short, but thrilling!"
Last year, Mr. Deslauriers teamed up with talented sitarist Anwar Khurshid for a fascinating and unique musical meeting between the Blues and Indian Classical music. The result is the new album entitled Enter The Gate (2013), a true "East meets West" collaboration.
"Music has the ability to overcome generational and cultural barriers," says Mr. Deslauriers. "It connects us all."
If last year seemed a busy one for Mr. Deslauriers, he certainly shows no signs of slowing down. A new Paul Deslauriers Band album has been mastered and is due out in early 2014. A CD Release party is scheduled for the Rainbow Bistro in Ottawa on Saturday March 15th. That show will be followed up with a date in Cornwall.
"I have been very lucky. I get to play, record and produce music and make a living out of it," says Mr. Deslauriers.
You can learn more about Paul Deslauriers, including where to buy his albums and where to see him play, at www.PaulDeslauriers.ca
Categorised in: Arts and Entertainment, General, News