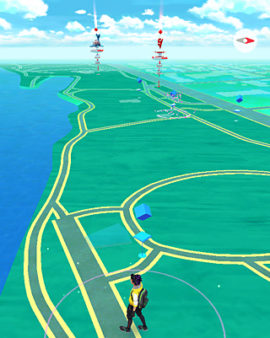 Cornwall's Waterfront A Big Hit With Pokemon Go Users
August 16, 2016
Cornwall Ontario – Cornwall's waterfront is on the map in the world's hottest game, and it is attracting hundreds of Pokémon Go fans to the area each day.
Pokémon Go is an augmented reality game that uses a mobile device's GPS capability to locate and capture virtual creatures, called Pokémon, who appear on the screen as if they were in the same real-world location as the player.
The game also feature PokéStops, which are landmarks where players can pick up needed items, and Poke-Gyms, where players can battle other Pokemon. While Pokemon can randomly appear anywhere, PokéStops and Pokémon gyms are only found in selected locations, predetermined by developer Niantic Labs.
There are over ten PokéStops in Lamoureux Park, with more in Cornwall's Downtown and Le Village business districts. There are also at least two Pokémon gyms in the immediate area as well.
"We have noticed a significant increase in visitors to Lamoureux Park this summer, and part of the reason is that we have lot of people playing Pokémon Go," says Jamie Fawthrop, Divisional Manager of Parks and Recreation for the City.  "The game encourages players to explore the community, and the PokéStops found in Lamoureux Park are all attached to historical landmarks and other points of interest."
Paul St. Onge, who operates Mocktails at the Civic Complex patio, was one of the first to recognize the opportunity. The entrepreneur has organized a number of Pokémon related events in the park, including a series of Pokémon Go Crawls scheduled every Saturday until late fall.
"The concentration of PokéStops in Lamoureux Park makes it a perfect location to play the game," says Mr. St. Onge. "Players can meet other players and share gameplay hints, all they while enjoying the waterfront. "
Pokémon Go was released July 2016. In the game, and has quickly become one of the most used mobile apps, reportedly having been downloaded by more than 100 million people worldwide. Critics have praised its interactive game play and location-based gaming, as well as for promoting physical activity and helping local business grow.
"The game offers a glimpse of what is possible when you incorporate geographic based information with entertainment," says Denis Lalonde, Geographic Information Specialist with City of Cornwall. "One can imagine the opportunities for using the same technology to help tourists discover restaurants and shopping."
Pokémon Go has also generated some concern from public officials as players can become so engrossed in the game and fail to be fully aware of their surroundings.
"We continue to remind our residents to be mindful and to take care – especially along roadways and the waterfront," says Police Chief Dan Parkinson. "The recreational path is a multi-purpose path enjoyed by cyclists and pedestrians. And of course, driving and using a mobile device – for any reason – is dangerous and is prohibited."
The game itself encourages people to get out and walk, and Lamoureux Park is a natural setting for the activity.
"Lamoureux Park is definitely THE place to play Pokémon Go," says Joe Beauchamp, a local fan. "It is a great opportunity to get outside, socialize and enjoy the scenery."
About Lamoureux Park and the Waterfront Trail
Located in the heart of the City of Cornwall, Lamoureux Park boasts a beautiful waterfront area spanning 91 acres. The Park is home to the Cornwall Community Museum, Cornwall Bandshell, EcoPark, Rotary Outdoor Gym, Splash Pad, Cornwall Civic Complex, Aquatic Centre and Marina 200.
The Park also provides access to the Waterfront Trail and other recreational paths, also well as historical plaques and other points of interest. Ample free parking is available.
You can learn more on the City website at www.Cornwall.ca.
Related Stories
Categorised in: Arts and Entertainment