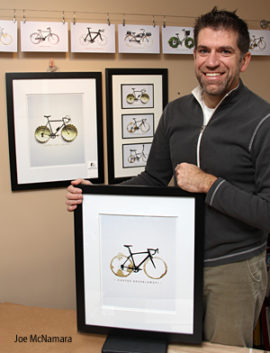 Cycling Enthusiast Launches Series of Bike Centric Art Prints
November 10, 2014
Cornwall Ontario – Local designer and avid cyclist Joe McNamara has a put together a series of striking art prints with bicycles as the core theme.
You could say that he has put a new spin on the marriage of athletics and art.
Each print features an illustration of a different bicycle with the wheels replaced by unique elements such as the stain left behind by a coffee cup or the leafy greens of kale. Mr. McNamara says the idea came to him one day while cycling.
"When I go for long bike rides my mind tends to go into a meditative state," says Mr. McNamara. "Ideas pop in and out. This is one that fortunately stayed with me. I did some test sketches and it worked right away."
For the skilled illustrator, drawing the bikes was the easy part. Coming up with a play on words was a little bit more difficult, but he is now up to 10 different designs.
"Each bicycle is rendered as technically accurate as possible," says Mr. McNamara. "I then match the personality of the bike frame to an unexpected element and the end result has been very rewarding."
Some of the more popular prints include one entitled Coffee Break(away) that features a modern bike  frame with the wheels depicted by the deep brown stains of a coffee cup. Beers and Gears features a couple of beer caps and 1970s bike frame. Cyclists can find their own favourite bike styles in prints that include a kid's banana seat bike and a tandem bike, amongst others.
All prints ordered during November will include the Remember print at no charge.
"The Remember print reminds us of the sacrifices that were made during wartime, and the important role that bikes played in war, particularly in WWI."
The prints are produced locally on archival paper that can be hung without being framed or placed in to a matted frame to give it a more sophisticated look. Available sizes include 12" x 18" and 9" x 6" mini prints, with note cards of selected designs on the way. Large prints are $12 and mini prints are $6. Each large print will be number and initialed by the artist.
Mr. McNamara says he would like to combine cycling related art with collectibles and fashion that appeal to the cycling culture. T-shirts of his prints are in the works and will be available soon.  He has ideas to convert a vintage bike into a self contained art kiosk that will travel around to events where he would pedal his wares.
You can view the prints and learn more about Bike Centric  art online:
Category: Arts and Entertainment
Categorised in: Arts and Entertainment, General, News