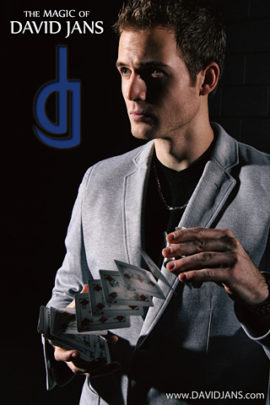 David Jans Astounding Audiences With Magic
October 4, 2013
Cornwall Ontario – The hand is quicker than the eye…. or is it truly magic?
David Jans is not telling, but he continues to astound and confound audiences with feats that defy logic.
The aspiring young magician is headlining his own show this Saturday October 5th at the Spotlight Hall in the North End of Cornwall.
"I've been working on several new demonstrations/effects and I'm excited to try them out in front of a big audience," says Mr. Jans. "Even if you've seen my show before you'll still see something new."
Mr. Jans has been performing magic for several years, and has become increasingly in demand for a wide variety of events, such as weddings, business functions, Christmas parties, team building events and birthday parties, etc. This year alone he has performed over 50 times.
It is a busy schedule for the full time engineering student who is in this 3rd year of studies.
"I am equally happy playing in front of 10 people as I am in front of 200," says Mr. Jans. "Eventually I want to take my magic to bigger stages and bigger audiences so that I can showcase more extravagant stage illusions and effects."
Mr. Jans has displayed some of his illusions on his YouTube channel, including an impressive house of cards that seems to float in mid-air.
A current audience favourite are feats of mentalism mind reading, where Mr. Jans predicts the outcome of a particular event.
"There is a lot of audience participation which creates great comedy, and sometimes something unexpected happens," he says.
Mr. Jans has also been appearing regularly on a live show in Ottawa on TV Rogers called "Entre nous.
Doors open Saturday night at 7:30 and the show starts at 8pm. Tickets are $15 in advance, $20 at the door. Tickets can be purchased online and printed at home.
Check out www.DavidJans.com for more info.
You can also follow David on Facebook and Twitter:
Categorised in: Arts and Entertainment, General, News