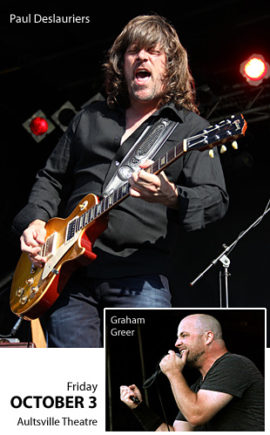 Deslauriers And Greer To Rock Out Cornwall
September 26, 2014
Cornwall Ontario – Fall colours will be given a rocking soundtrack on October 3rd as Canada's top blues guitarist returns to Cornwall's Aultsville Theatre.
The Paul Deslauriers Band is comprised of lead singer and guitarist Paul Deslauriers, bassist Greg Morency and drummer Sam Harrisson. For Mr. Deslauriers it is a chance to once again play in his hometown, and to return to a theatre where he once performed violin recitals as a young boy.
"I am looking forward to taking the stage and letting loose  – Aultsville Theatre is a great place to listen to live music."
Mr. Deslauriers is launching a tour of Ontario with this Cornwall date, following a busy summer festival season that saw him and his band play over 40 concerts in support of their new critically acclaimed CD, The Paul Deslauriers Band.
"People are responding really well to the new songs, and we plan on playing pretty much the entire album – it promises to be a great show!"
Mr. Deslauriers will be joined on stage by another popular Cornwall musician – Graham Greer.
"Paul's a great, down-to-earth guy and a fantastic guitar player," says Graham Greer. "I'm really looking forward to seeing this new incarnation of his that's been garnering so much positive press."
Mr. Greer will be performing with The Graham Greer Band, which includes long-time collaborators Stephane McAlear, Todd Huckabone, and Garney Paterson.
"We're going to be playing a lot of new songs that folks have been exposed to acoustically over the past two years – so they're going to be portrayed in an entirely different light," said Greer.
The event kicks off at 7 p.m. when people will have a chance to mingle with the musicians and grab refreshments in the theatre lobby. The show starts at 8 p.m.
Tickets are $30, and are available at Scotiabank.
The concert is a fundraiser for Victim Services of SDG&A, organized by the Wheeler-Forget from Royal Lepage Performance Realty.  Proceeds will support a mobile tracking system to help people facing domestic violence, stalking or harassment. Scotiabank will be matching ticket sales to a maximum of $5000. Other sponsors include Welch LLP, Moore Wrinn Financial Group, Seaway Countertops & Interiors, and The Homefinder.
About Graham Greer
A professional musician for over 20 years, Graham Greer and his band the Barstool Prophets rose to popularity in the 1990s with a series of Canadian rock radio hits. Greer has released two popular solo CDs, Palookaville (2003) and Graham Greer (2009). Mr. Greer has mentored a number of up and coming musicians and recently produced the debut LP from singer-songwriter Tracy Lalonde. Mr. Greer plays regularly in the region with the Graham Greer Band.
About Paul Deslauriers
A virtuoso on both electric and acoustic guitars, Cornwall native Paul Deslauriers gained acclaim in the 1990s as a founding member of Black Cat Bone, deemed by many critics at the time to be "one of Canada's hottest blues-rock bands." He has been called upon to share his guitar and vocal talents on tour with the likes of The Respectables and Amanda Marshall.  He teamed up with Dawn Tyler Watson, another accomplished blues  musician, and together they have released two albums and have played with artists such as Buddy Guy, Derek Trucks and Bruce Cockburn.  The duo were named Best Acoustic Act in 2014 by the Maple Blues Society.  Mr. Deslauriers has also released three solo records: Limited Edition EP (2003),Ripping into the Red (2006) and Left's Alright (2013).
About Aultsville Theatre
Aultsville Theatre is located at 2 St. Lawrence Drive, on the campus of St. Lawrence College. Since 1976, Aultsville Theatre has hosted community and world class performances in its spacious, 658-seat theatre. More info can be found at www.aultsvilletheatre.com.
Categorised in: Arts and Entertainment, General, News