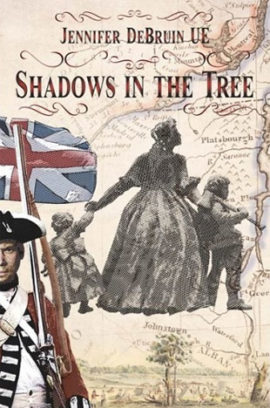 Discover the Humanity in History with New Novel
November 29, 2013
Cornwall Ontario -The timing could not be better for the release of Jennifer DeBruin's second novel, Shadows in the Tree.
The Bicentennial anniversary of the War of 1812 has piqued many people's interest in their heritage, which fits in well with DeBruin's brand of fact-based/historical fiction.
"I encourage people to discover the humanity in the history," says Ms. DreBruin. "People experienced the history we read about in books. I hope that my writing will inspire people to more closely at their communities and reflect on how it all began."
Shadows in the Tree tells the story of Maria Catrina Eamer who must safeguard her children on their exodus through the wild, untamed Adirondack mountains as they flee to Canada to escape the American Revolution.
United Empire Loyalists made their way up from Johnstown, NY eventually settling along the St. Lawrence in the Cornwall area. By writing a fictionalized accounting of real people and real events, DeBruin has highlighted the incredible Canadian history that took place … and what was sacrificed in the name of loyalty.
It is a story that has a very real personal connection to the author. The character Maria Catrina (Gallinger) Eamer  is the name of DeBruin's (5th) Great-Grandmother. Maria Catrina's husband Peter Eamer was wounded at the Skirmish at Hoople's Creek which is also in book.
"My family has found it interesting to learn about what our ancestors went through to provide the life we now have," says DeBruin.
Shadows in the Tree is the second novel for the author who grew up in Cornwall and was until last year a lecturer at the Cornwall Campus of St. Lawrence College.  Her first novel A Walk With Mary was inspired byher maternal grandmother's experiences growing up along the banks of the St. Lawrence River near Cornwall.
Shadows in the Tree is published by General Store Publishing House and signed copies are available at several retailers in the Cornwall area including Laura's Flowers.  DeBruin will signing copies of her book at the Cornwall Public Library on December 21st from 11:00 am – 2:00 pm.  A list of local retailers can be found on the author's website at: www.jenniferdebruin.com. The book can also be ordered online through General Store Publishing House (GSPH), Chapters/Indigo, Amazon.com and other retailers.
"It was important to me to ensure Shadows in the Tree was made available in SD&G for Christmas – the community has been so supportive," says Ms. DeBruin. "Since I write about the place where my heart and history is, it seemed only fitting that this is where this book's journey should begin."
For more information on Ms. DeBruin's first novel click here.
About Jennifer DeBruin
An avid student of life, with a particular interest in history and genealogy, Jennifer DeBruin has had the opportunity to research and travel in search of stories about people and places. With a passion for "discovering the humanity in history," she is in the process of researching her third novel, based on the stories of individuals found in her own family tree.
Jennifer holds the hereditary title of UE as a proven descendant of United Empire Loyalists who settled in Upper Canada (modern-day Ontario) during the 1780s. Shadows in the Tree is her second novel. She has also recently published A Walk With Mary. Jennifer is a professional speaker and entrepreneur with a successful training business. She is happily married with two children and lives in Eastern Ontario.
Categorised in: Arts and Entertainment, General, News