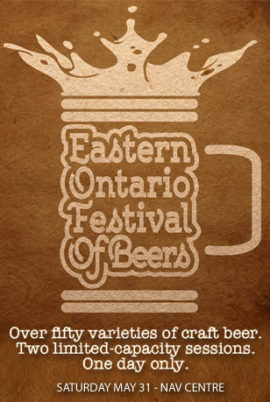 Eastern Ontario Festival of Beers On Tap This Saturday
May 27, 2014
Cornwall, Ontario – Beer lovers and breweries from across Eastern Ontario will be heading to Cornwall to take part in the first ever Eastern Ontario Festival of Beers. It all takes place Saturday May 31st at the NAV CENTRE.
Festival manager Rob Csernyik is very enthusiastic about this upcoming event as it is the first of its kind in the Cornwall area.
"We're excited to offer a new festival experience in Cornwall for locals and tourists alike," said Csernyik. "The Festival of Beers will be a great opportunity to spend an afternoon or an evening with friends sampling some of the finest craft beers in the country."
Twelve breweries and one cider company will be offering samples of finely crafted beverages during the festival. Local breweries include Cassel Brewery, Beau's All Natural Brewing, Gananoque Brewing Company, Whitewater Brewing, Broadhead Brewing, Mill Street Brewery and Turtle Island Brewing, as well as breweries from elsewhere in Ontario and Canada. The still in development Cornwall brewery Rurban Brewing will also have an exhibit on site, and County Cider Company from Prince Edward County will be there to offer an alternative to the 50+ beers that are planned to be available.
Festival participants will attend one of two sessions where they will sample beer in 4 oz glasses and then vote for the brew that they they believe to be superior. At the end of the festival one beverage will be named the 'Best of the Fest'.
The first session takes place from 12:00pm to 4:00pm and the second from 5:00pm- 9:00pm.  Tickets cost $32.50 are available at Habitat Home Decor and Lifestyle in Downtown Cornwall or online at festivalofbeers.yapsody.com. Tickets include a $5.00 voucher for the festival's deli as well as $5.00 worth of beer tickets. Group discounts are available to parties of 12 or more people.
Along with the great tasting beer there will be food concession stands as well as live entertainment. Festival goers will also have the opportunity to eat at NAV Centre's Jet Set Pub and Propeller Restaurant which will both be open during this festival.
"We hope to make this an annual event," said Csernyik. "All beer lovers are encouraged to join us at the first ever Eastern Ontario Festival of Beers." This is a great opportunity to support see and support some of our local, high quality brewers.
For more information please visit the Eastern Ontario Festival of Beers Facebook page facebook.com/eofob.
Categorised in: Arts and Entertainment, General, News