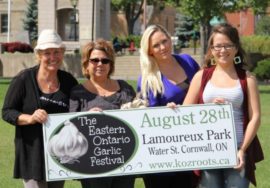 Eastern Ontario Garlic Festival Celebrates All Things Local
August 23, 2016
Cornwall Ontario – The Eastern Ontario Garlic Festival is back to celebrate local food, entertainment and fun.
This weekend over a hundred local vendors, farmers, garlic producers, artisans, and musical talent will unite on the banks of the St. Lawrence River to celebrate all things local.
"The pathways in Lamoureux Park will be filled with vendors," says organizer Brenda Norman of the Kozroots Community Empowerment Projects. "From locally grown produce, preserves, meat, gifts and art, the festival will really help to connect the community with our local vendors."
The event will kick off Saturday, August 27 at 5:00 pm with a Beer and Wine Garden, featuring local brews and drinks from Rurban Brewing, Beau's All Natural Brewing, Strathmore Orchard and Smokie Ridge Vineyard. Drinks will be complemented by live music, appetizers and a live "Art in Motion" show.
Art in Motion will feature 12 local artists from Your Arts Council, Focus Art and the Centre Culturel de Cornwall rotating between 12 canvases every 12 minutes. The artists have collaborated with local farmers to pick 12 words describing growth and rural life, and the show will reflect the artists' interpretation of those words.
The celebration continues on Sunday, August 28th from 10:00 am to 6:00 pm as local vendors, live music, workshops, artists, and children's activities bring the park to life.
"The festival allows the community to create relationships with their local merchants and farmers," says Ms. Norman. "It really shows just how accessible local food and products are in the SDG area."
Free family friendly activities will be plentiful, including workshops on edible weeds, spinning wool, and beekeeping, as well as face painting and a corn roast.
There will also be two cooking demonstrations, one led by local chef Bruce Wood and the other by the Seaway Valley Community Health Centre, with each demonstration using the fresh and local products found on site.
The Eastern Ontario Garlic Festival will also mark the finale of this year's Local Food Challenge, an event that challenged local residents to eat from local food sources for just over two weeks. A celebration and prize presentation will take place during the festival.
Raffle tickets will be sold on site, with a chance to win a Bed & Breakfast getaway, a tour of Beau's brewery, and more! The tickets will be drawn at the Garlic Gala held in November.
The Eastern Ontario Garlic Festival is a free event is sponsored by Homestead Organics, the City of Cornwall, the United Counties of Stormont Dundas and Glengarry, the United Counties of Prescott and Russell, the Eastern Ontario Agri-food Network, and many other community organizations.
The event will be held rain or shine. All interested vendors, artists, musicians, community partners, or general volunteers are invited to contact the organizers for more information:
Categorised in: Arts and Entertainment