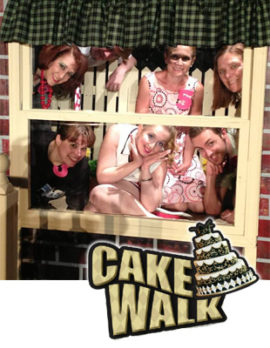 Eat Cake and Enjoy the Live Theatre
July 19, 2013
Cornwall Ontario – Live theatre and cake batter will take centre stage at Dream Builder Studios in Cornwall over the next several days.
Cakewalk by Colleen Curran tells the story of five unlikely contestants who clash in a cake baking contest. Produced by the Seaway Valley Theatre Company under the direction of Lacie Petrynka, Cakewalk's on-stage hi-jinks and flying cake batter is sure to impress, and will make you question small town Ontario life.
Lacie Petrynka, Director, is ecstatic with the cast and crew.
"The cast is ready to entertain you," said Petrynka. "Get out of the heat and get your ticket today for the summer season play."
The Seaway Valley Theatre Company's previous performance, No Sex Please, We're British was a great success and sold out its venue—Cakewalk is sure to impress. Written by comedic genius Colleen Curran, the Montreal playwright, novelist, and CBC actor, Cakewalk premiered at the Blyth Festival in 1984, and has since been performed more than 50 times across Canada. Cakewalk's rights were recently acquired by Whoopi Goldberg for a Showtime TV series.
The Seaway Valley Theatre Company production stars Trisha Decoeur as Leigh, Sue Kingston as Ruby, Emily Brown as Tiffany, Chantal Desnoyers as Martha, Myles Chisholm as Taylor, Michael Chatelain as the Loudspeaker and Christa Pare as Augusta.
Cakewalk will be showing at Dream Builder Studios July 19, 20, 25, 26 & 27 at 7:30 pm. It will also be showing July 21 at 1:30 pm. Tickets can be purchased for $20 at the Cornwall Square's Administration offices during normal store hours, on a cash only basis. Tickets may also be bought at the door prior to the show, should they be available.
The Seaway Valley Theatre Company's next show, The Complete Works of William Shakespeare (Abridged)by Adam Long, Daniel Singer, and Jess Winfield, is holding open auditions Monday July 22, 7 to 9pm, and Tuesday July 23, 7 to 9pm.
About Seaway Valley Theatre Company
The Seaway Valley Theatre Company is an amateur theatre group that provides fun, affordable, family friendly entertainment for the entire community. The group stages musical and comedy productions throughout the year including matinee and evening performances. Some past productions include "Beauty and the Beast," "Guys and Dolls," and "Office Hours". Be sure to check out their website for performance listings and ticket information. www.svtc.ca
About Dream Builder Studios
Dream Builder Studios was created to make a facility available to all independent artists who typically would not have access to a large studio complex to create their art. The entire 6 acre studio complex sits along the scenic St. Lawrence River at 2107 Second St. West. Visit www.dreambuilderstudios.com for more information.
Categorised in: Arts and Entertainment, General, News