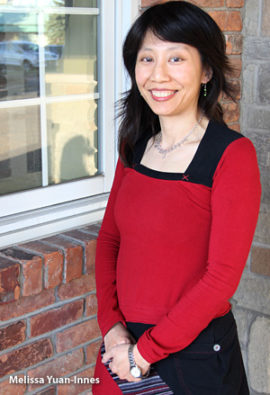 ER Doctor Delves Into Medical Mysteries
April 28, 2014
Cornwall Ontario – Dr. Melissa Yuan-Innes knows how to multi-task. The experienced emergency room physician is not only married with two children and involved in her community, but she also has a growing following as Melissa Yi, author of the popular Hope Sze medical mysteries.
Dr. Melissa has just released Terminally Ill, the third novel in the Hope Sze series and reader response has pushed the novel onto Kobo's Top 50 eBooks list. The novel has now sold in five countries and buzz about the book led to an interview with Wei Chen, host of CBC Radio One's Ontario Morning.
The series of novels feature Dr. Hope Sze, a character that many readers wonder is based on the author herself.
"Dr. Hope is 90 percent me," admits Dr. Melissa. "Except she's me as a resident, and she didn't get married in medical school, so she gets to flirt a lot more."
Terminally Ill provides Dr. Hope Sze with her most chilling case yet.  She is on hand to save an escape artist when his staged plunge into the icy waters of the St. Lawrence River goes horribly wrong. When he regains consciousness he hires Hope to deduce who sabotaged his act.
The novel proved to be a challenge to write for the notoriously prolific author, who typically writes at least 1000 words a day.
"Terminally Ill was a really difficult slog for me," says Dr. Melissa. "It took me about 1 1/4 years, because there are three intertwining plots, and I was exhausted afterward."
Dr. Melissa sold her first semi-pro story while she was in medical school, and was one of the Writers of the Future winners in her final year. She has had articles published in The Medical Post, and was commissioned by the CBC to write a radio drama pilot ("No Air") in early 2011. After the project was shelved (and the entire CBC Radio drama department was cut) she decided to take more control over her work.
Today she is a hybrid author, which means that she is both traditionally and indie-published. For her novels, she created her own publishing company, and takes full advantage of the ebook market, which she believes is the wave of the future.
"Ebooks help authors to achieve success quicker," says Dr. Melissa. "Instead of spending years writing the book and querying editors and agents and waiting another two years for publication, people can start earning money today."
Of course, murder mysteries are not the only books penned by Dr. Melissa that are popular with readers. Her medical humour collection, The Most Unfeeling Doctor in the World and Other True Tales From the Emergency Room, are strong sellers as well. She also has a large collection of short stories that explore a number of diverse genres from romantic fiction to fantasy to science fiction.
As for what is next, Dr. Melissa says she has at least two more Hope Sze books coalescing in her  brain, including one that is loosely inspired by a night shift at the Cornwall Community Hospital.
"Right now, I'm editing The Goa Yoga School of Slayers, which is the second book in a new fun, silly romp of a mystery series, just to get my mind off the darkness in the medical books," says Dr. Melissa. "And, of course, I've always got another medical humour book cooking on my hard drive."
So, exactly how does Dr. Melissa juggle her roles as an author, emergency room physician, mother and wife?
Perhaps that is a mystery that only Dr. Hope Sze can solve.
You can learn more about Dr. Melissa's writing, including her latest novel Terminally Ill, on her website at http://melissayuaninnes.com/
All of her books and short stories are available for the Kobo and Kindle ebook readers.
Categorised in: Arts and Entertainment, General, News