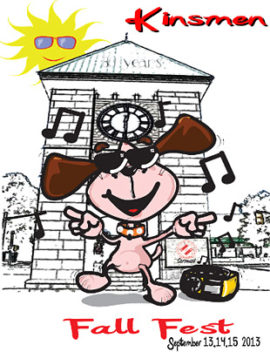 First-ever Fall Fest Promises Good Music And Good Times
August 30, 2013
Cornwall Ontario – The Kinsmen Club of Cornwall is looking to close out the summer on a high note with the first-ever Fall Fest in Lamoureux Park.
The Fall Fest will run from September 13th to 15th and will feature a mix of live music, food and non-food vendors, cultural performances, a craft beer tent and much more.
Admission is free, however donations are welcome.
Kinsmen Club member and event organizer Terry Muir said they wanted to create a festival after Labour Day that residents could look forward to and enjoy, all the while raising funds for an important cause.
"It highlights what Cornwall is all about," he said.
Funds raised from the event will help to support the Children's Christmas Fund as well as the Children's Breakfast Program in local schools.
The entertainment line-up will be key feature throughout the weekend, with a mix of local performers sharing the stage with popular tribute bands.
The Friday line-up will feature:
Sky People
Elly May
Heatley
Landmark
Crush (a Bon Jovi tribute).
That will be followed up with performances on Saturday by:
Roxanne Delage
Steve Gardiner
Andrew Cassara
Grace Willison
The Shiners
Switchgear
Night Fever (a Bee Gees tribute)
The festival will close out on Sunday with performances by:
The Jamie Heath Blues Experience
The Brigadoons
Graham Greer
Fleetwood Mix (a Fleetwood Mac tribute)
In between all of the live music, spectators will enjoy cultural demonstrations including a Chinese Lion Dance, a martial arts display and appearances by the MacCulloch Dancers and the Native North American Travelling College Pow Wow.
"We've got a little bit of everything for everyone," said Mr. Muir.
While it's early yet, Mr. Muir said if all goes well, they may look to build on the festival next year and in the years ahead.
The ultimate goal is to make Fall Fest a regular feature on Cornwall's annual event calendar alongside other community celebrations like Lift-Off, Ribfest and WaterFest.
For more information on the festival, please visit www.kinsmenfallfest.com.
Categorised in: Arts and Entertainment, General, News