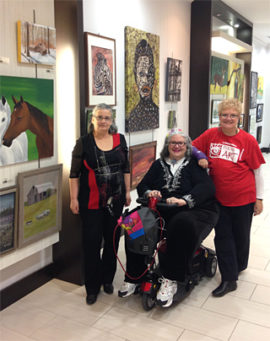 Focus Art on display at Cornwall Square
April 8, 2016
Cornwall Ontario –  Looking to let a little art into your life?
Check out the Focus Art Show taking place at Cornwall Square over the next several days.
"The show features 96 pieces of art from 41 local artists," says Louise Mignault, Vice President of Focus Art. "It is a wonderful opportunity to explore the talent that exists in Cornwall and the Counties.
The show is located on the second level near the food court, across the aisle from Coles book store.
"Cornwall Square is happy to partner with the local arts community to showcase the incredible talent we have locally," says Karen Burns, Retail Manager with Cornwall Square. "The art show is a favourite with our shoppers."
The art includes paintings in acrylic, oil, watercolour and mixed-media, and covers a wide range of subjects. Many of the art pieces are for sale but will not be sold on site. Information about each artist is available for patrons to enquire about purchasing a piece directly.
Visitors to the show will also have the opportunity to buy one of only 200 raffle tickets to win an original oil painting from nationally renowned artist Pierre Giroux. Tickets are $5 and the draw will take place on September 7.
The show is being organized by Focus Art, an association of over 75 artists.
Focus Art was started to bring visual artists together," said Ms. Mignault. "We get together several times a month  to listen to a  guest speaker, have demonstrations or simply to share information to help each other out."
"It's also a social event for the artists since they often work alone."
The show runs from April 7 to 17th at Cornwall Square on select days:
Thursday and Friday 11-7
Saturday 10-5
Sunday 11-4
You can find Focus Art online:
Categorised in: Arts and Entertainment