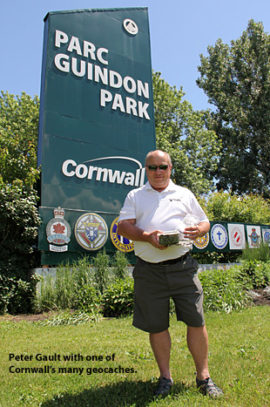 Geocaching Adventures in Cornwall and the Counties
June 27, 2014
Cornwall Ontario – You can find Cornwall on just about any map of Ontario, but did you know that Cornwall also appears on digital treasure maps?
Welcome to the world of geocaching. It is an outdoor activity that is growing in popularity.
Hundreds of small containers, called "geocaches" or "caches", are hidden at key points in Cornwall and the Counties, and participants use a Global Positioning System (GPS)  device to find them. Inside the waterproof container is a logbook where the geocacher signs their name and enters the date they found it. Caches can also contain items for trading, such as pins or small gifts.
All in all, there are 2,431,048 active geocaches and over 6 million geocachers worldwide.
One of the local geocache enthusiasts is Peter Gault, who also happens to be the new chair of Team Cornwall.
"Geocaching is a great way to be active and enjoy our beautiful landscape," says Mr. Gault. "It is also a great tourism draw – our local caches have been visited by people from every continent."
People can place items, often called travel bugs, in geocaches for visitors to take with them and share. Mr. Gault can trace these travel bugs via the geocaching website and it is often surprising how far it travels.
"A person can pick up a Cornwall pin and then return home to Boston and place it an geocache there,"  explains Mr. Gault. "From there a visitor from Europe may pick it up and off it goes across the Atlantic."
It is not unusual for Cornwall travel bugs to visit 30-40 places in their travels. In fact, one such item, a photo of Mr. Gault's granddaughter, has travelled 28,845km  and is currently in a cache in France.
"Geocaching helps people connect Cornwall to other communities around the world," says Mr. Gault. "It is a fun activity that anyone can do – all they need is a smart phone with a GPS app."
Mr. Gault won't divulge where some of the local geocaches are hidden – finding them is part of the fun. Some of the local geocaches are hidden in urban locations, and others can be found in parks and nature areas.
You can visit www.geocaching.com to learn more about the activity,  and find the co-ordinates of local geocaches.
Categorised in: Arts and Entertainment, General, News