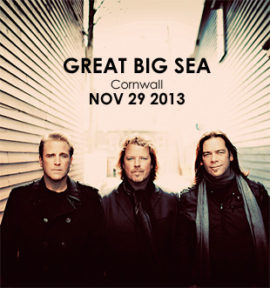 Great Big Sea to Rock the Cornwall Civic Complex Nov 29
September 13, 2013
Cornwall Ontario -Critically-acclaimed Canadian folk rock band Great Big Sea will be taking the stage at the Cornwall Civic Complex on Friday, November 29th.
The highly-anticipated show is part of a cross-Canada tour in support of the band's greatest hits and box set, XX, and in celebration of their 20th anniversary.
"Great Big Sea is one of Canada's best known musical acts, and we're thrilled to have them perform at the Civic Complex," said Janice Robinson, Facilities Rental Coordinator. "There will be a high demand for this show, so fans should get their tickets early."
Tickets for the show go on sale on Saturday, September 14th from 10 am to 4 pm at the Civic Complex Box Office, either in person or by phone at (613) 938-9400. Tickets can also be obtained online at www.Admission.com or by calling 1-855-790-1245. Ticket prices are $87, $60 and $42 each.  Doors for the show open at 7 pm.
About Great Big Sea
Few bands last more than an album or two — a few tours, a song played on the radio, and then they are quickly forgotten. Alan Doyle, Sean McCann and Bob Hallett have somehow managed to keep the dysfunctional-family-bar-room-brawl-student-art-project-musical-pirate-crew known as Great Big Sea going for two decades. And more often than not, they have done it with more than a bit of flair.
For the hundreds of thousands of fans who sang, danced and celebrated with the band, Great Big Sea has been a constant factor in their own lives.  While musical fashions have come and gone, Great Big Sea has maintained an unswerving commitment to their original ideals — a belief that a marriage of their own creativity and the joyous folk music of their home in Newfoundland would be an unbeatable combination.
Compiled by the band members themselves, XX is a special two-disc set which captures the many highs in a recording career that has produced ten full-length CDs and two DVDs.  In order to express the band's two sides, one disc covers the biggest hits from their more pop-oriented repertoire, while the other contains some of their most loved traditional and folk songs. To balance out the discs, the band recorded six new songs — almost a new album in itself — which run the gamut of their varied stylistic approach.
Beyond the two-disc greatest hits collection, XX includes another disc that contains some of the band's lesser known excursions and experiments.
For more info, visit www.GreatBigSea.com.
About the Cornwall Civic Complex
Situated in scenic Lamoureux Park on the banks of the St. Lawrence River, the Cornwall Civic Complex is a highly versatile and modern facility.  The heart of the Civic Complex is the Ed Lumley Arena, a modern ice rink that boasts seating for up to 5,800 people for concerts and special events.
The Civic Complex has hosted a number of special events in recent years such as the RBC Cup National Junior A Hockey Championship and concerts by Hedley, Nickelback, Alice Cooper and Blue Rodeo.
For more information on the Civic Complex, please visit www.Cornwall.ca.
Categorised in: Arts and Entertainment, General, News