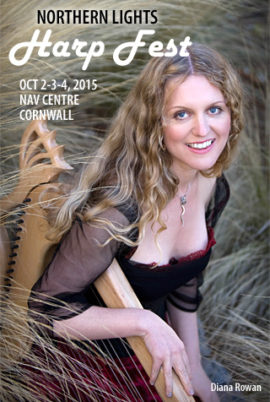 Harp Fest Finds New Home At NAV CENTRE
July 30, 2015
Cornwall Ontario – The sounds of harp music will be soaring over the St. Lawrence River this October as some of North America's most accomplished harpists gather for the Northern Nights Harp Fest.
Over 80 participants from as far away as California, Seattle and Wyoming are expected to attend the 3 day event which takes place October 2, 3 and 4 at the NAV CENTRE. Each day is packed with workshops and will feature concerts that are open to the public.
"We are really excited about holding the event in Cornwall, as it offers us a wonderful facility in a very strategic location," says Joanne Griffitn, Chair of the organizing committee. "Registrations continue to come in from all across North America. The committee can't wait to greet our old friends and make new ones."
The Northern Lights Harp Fest is the only gathering of musicians in Canada that is exclusively for harpists. Held every two years, this will be the fourth Harp Fest and organizers are hoping to make Cornwall the permanent home of the festival.
Harp Fest will feature some world-renowned harpists who will provide workshops ad also perform in daily concerts. Among the featured speakers/performers are Ray Pool, Harper Tasche, Martha Gallagher, and Diana Rowan.
"The Theatre at NAV CENTRE provides us with a venue that can seat over 200, and we will be inviting the public to come and enjoy the concerts," says Ms. Griffin. "There is nothing quite as beautiful as harp music, and here is a chance to see some of the world's best players at the top of their game."
You can find out more about Northern Lights Harp Fest online:
Categorised in: Arts and Entertainment, General, News