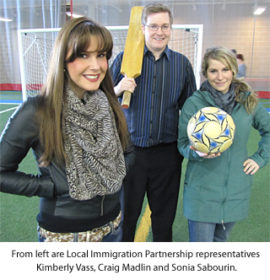 International Sport Day Set For March 9
February 12, 2014
Cornwall Ontario – The Benson Centre in Cornwall will host a cricket and soccer exhibition next month.
Local players who enjoy the games and want to know more about sports that are huge in parts of Europe, Asia and Australia should mark March 9 on their calendars.
From 2 to 5 p.m. sports enthusiasts looking for something different can enjoy both soccer and cricket on the in-door field at the Benson Centre.
International Sport Day is free.
"We want to showcase what newcomers to our region bring with them from other countries," said Kimberly Vass-Lihou of the Local Immigration Partnership. "The traditions and heritage of their home countries is often illustrated in the sports they play."
The Local Immigration Partnership of SDG-PR is sponsoring International Sport Day in conjunction with Kensington Park Recruitment, Supply Chain Management and TR Leger Immigrant Services.
Before the start of play, spectators will be provided with a quick overview of the rules for both sports and then invited to take part in a short cricket coaching clinic after the game. Afterwards, they'll have the opportunity to test out their newly acquired sporting skills with an exhibition game to round out the day.
Players will arrive 15 minutes prior to the event with the matches scheduled to kick off at 2 p.m. The cricket coaching session will start at 3:45 p.m. with the exhibition match scheduled from 4 to 5 p.m.
Though all athletes aged 18 years and over are welcome to participate, registering prior to event day is mandatory. Athletes will be divided into teams upon arrival.
For further information and to register call 613-932-0210.
The Local Immigration Partnership is a project funded by Citizenship and Immigration Canada and administered by both the Eastern Ontario Training Board and TR Leger Immigrant Services.
Related Articles
The above story and photo were sourced from the Cornwall Seaway News.
Categorised in: Arts and Entertainment, General, News