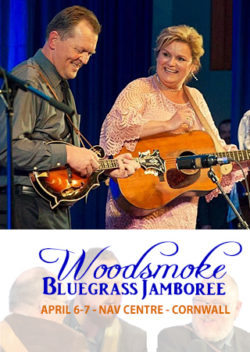 Jamboree Brings the Sounds of Bluegrass to NAV CENTRE
April 4, 2018
Cornwall Ontario – Fans of bluegrass music will be once again gather at the Nav Centre this weekend for the Woodsmoke Bluegrass Jamboree.
It will be the 7th time the event has been held in Cornwall.
"The Woodsmoke Bluegrass Jamboree is an old time acoustic music show presented in a format similar to the Grand Ole Opry," says organizer Darwin Thom. "It's a lively show of handmade music and strong vocal harmonies."
Bluegrass is considered to be the 'original country music'.  The Jamboree attracts about 35 top-notch bluegrass musicians performing in various bands and making guest appearances with other bands. They perform in three separate shows over the course of two days. After the music shows, the performers come out to play music with the audience.  Many jams breakout all over the NAV Centre common areas.
This year's headliners include Ray Legere and Frank Doody, Marie Johnston, Backcountry Bluegrass, Dusty Drifters, Marc and Phaedra Roy and Winterline.
Also appearing are Derek Brennan, Bluegrass Junction, John Richard, Peter Dawson, the Woodsmoke House Band, Gilles Leclerc and Darwin Thom.
"They're among the finest in the country and some of them have played with U.S. bands," said Mr. Thom. "Any one of them can take an instrumental break that is jaw-dropping good."
The Woodsmoke Bluegrass Jamboree originally started as an idea among Mr. Thom and some fellow musician friends during an acoustic jam at home in the dead of winter.
"It sounded great and we thought it's a shame there's no stage to play on and share the music," he recalls.
Around the same time, Mr. Thom was at the NAV Centre on business and discovered the facility's numerous amenities, including the beautiful auditorium. The rest is history.
The event has grown steadily each year, with the majority of attendees coming from outside of Cornwall. Bluegrass fans and players from across Ontario, Quebec and New York State regularly make the trip to take in the festivities.
"It's a great central location for people, whether they are coming for the day or the weekend," he said.
Show Times and Tickets
Woodsmoke Bluegrass Jamboree is open to the public. The event includes three separate shows:
Friday April 7 – 7:00pm – 10:00pm
Saturday April 8 – 1:00pm – 5:00pm
Saturday April 8 – 7:00pm – 10:00pm
Tickets are still available for $25 for an individual show, $40 for both Saturday shows or $60 for a full weekend pass.
Tickets are available online at: https://sites.google.com/site/woodsmokebluegrass/ticket-reservation as well as at the following outlets:
Renfrew –  Mill Music – 25 Argyle St. (613-432-4381)
Ottawa –   Lauzon Music – 1345 Wellington St. (613-725-1116)
Cornwall – Melody Music Centre -104 Pitt St. (613-933-0205)
Kingston – Long & McQuade – 1057 Midland Ave. (613-384-9225)
About Woodsmoke Bluegrass Jamboree
Woodsmoke Bluegrass is a not-for-profit event for the purpose of preserving and promoting live, acoustic music.  You can learn more online:
Categorised in: Arts and Entertainment