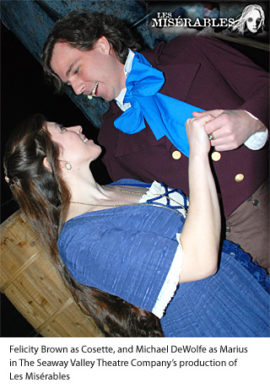 Les Misérables Brings Theatre Crowds To Their Feet
February 10, 2014
Cornwall Ontario – There is still an opportunity to catch Seaway Valley Theatre Company's production of, the epic musical, Les Misérables, which opened Friday night at Aultsville Theatre, to a well-deserved standing ovation.
Reaction from the crowd was immediate, with theatre goers taking the opportunity to post positive comments online during the intermisision.
"Wow! Amazing production thus far," said local restauranteur Wendy Hargreaves. "Such a fabulous show and Jim Malyon was amazing as Jean Valjean. A must see Cornwall!"
Social media was abuzz throughout the weekend as other theatre goers added their voices to the positive reviews.
"The SVTC production of Les Miz is unbelievably good!," said Cornwall businessman Michael Galvin. "I was crying at the end! Beautiful sets, awesome music, and stellar performances!  Couldn't see any better on broadway!"
There are many outstanding individual performances, including Jim Malyon, as Jean Valjean, Kelsey Lee as Eponine, Lacie Petrynka, as Madame Thenardier, and young Liam Greer, a featured member of the chorus.
Ticket sales have been brisk all month, but the first 3 performances have theatre fans rushing to buy more.
"The phones have not stopped ringing all day," says Janice Robinson, Facilities Rental Co-ordinator for the City of Cornwall. "It would not surprise me if the remaining shows sell out. People should get their tickets while they can!"
Showtimes
There are three more performances of Les Misérables at Aultsville Theatre
Thursday, February 13 at 7:30pm
Friday, February 14 at 7:30pm
Saturday, February 15 at 7:30pm
Purchase Tickets
Tickets can be purchased in person at the Cornwall Civic Complex – Box Office at 100 Water Street East. The Box Office is open Monday to Friday, 8:30 am  to 4:30 pm. Tickets can also be purchased by phone 613-938-9400 or online at www.Admissions.com
Tickets (subject to availability) can also be purchased at the door.  The Theatre Box office opens one hour before show time. Cash only.
Tickets cost $22 for adults, $20 for Seniors/Students and $18 for kids under 12.
About the Play
Les Misérables is an adaptation of the Victor Hugo's 1862 novel, widely considered one of the greatest novels of the 19th century.  Culminating in the 1832 June Rebellion in Paris, the story follows the lives and interactions of several characters, focusing on the struggles of ex-convict Jean Valjean and his experience of redemption. Musical favourites include: Castle on a Cloud, Do You Hear the People Sing, On My Own, and many more!
The play is directed by Dave Barnes, with the assistance of musical director Brian McCartney and choreographer Mélanie Samis. The play was produced by  Lise Richer & Christiane Taylor.
About The Seaway Valley Theatre Company
The Seaway Valley Theatre Company is a local amateur community theatre group that produces cabaret style plays, musicals, and children's shows each season. The group is supported by its volunteers, membership, and the local business community through sponsorship and advertising.
About Aultsville Theatre
Aultsville Theatre is located at 2 St. Lawrence Drive (formerly 2 Belmont St.) Cornwall ON., on the campus of St. Lawrence College. Since 1976, Aultsville Theatre has hosted community and world class performances in its spacious, 658-seat theatre.
For more news on what's happening at the Theatre, please visit www.aultsvilletheatre.com
The above story, including the photo, were sourced in part from the Cornwall Seaway News.
Categorised in: Arts and Entertainment, General, News