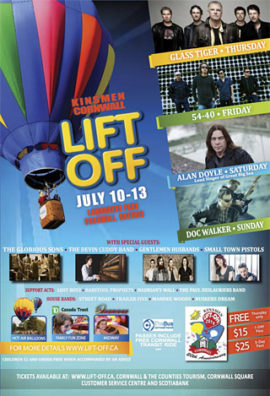 Lift-Off Gears Up For 20th Anniversary
May 26, 2014
Cornwall Ontario –  Kinsmen Cornwall Lift-Off turns 20 this year, and festival organizers have put togther an exciting line-up of Juno-award winning bands, emerging artists and some very talented local musicians.
It all takes place on the shores of the St. Lawrence River in Downtown Cornwall this July, from Thursday July 10th through Sunday July 13th.
"It's the most diverse line-up we've ever had" said Jason Mitchell, Festival Music Chair .
Performing on the Lamoureux Park stage this summer will be West-Coast rockers 54-40, Country sensation Doc Walker, Great Big Sea frontman Alan Doyle as well as the five time Juno Award winning band, Glass Tiger. Emerging artists the Glorious Sons, Gentlemen Husbands and Juno Award nominee The Devin Cuddy Band are also sure to delight.
Canadian music fans will also be delighted to hear that two of Cornwall's most famous music exports will play this summer: Paul Deslaurers (recently named Blues Guitarist of the Year) and  the Barstool Prophets.
Festival co-chairs Jason Jesmer and Mary Marleau have also announced a new pricing structure that is sure to please.  A full festival pass will cost only $25, with Thursday night being free to all.
"The (weekend) pass is significantly reduced from last year," said Jesmer. "We understand that it gets expensive, especially when you have a family, and we wanted to make sure that everyone can come out to enjoy the weekend."
Here is the full music line-up for the 20th annual Kinsmen Cornwall Lift-Off Festival:
Thursday July 10th

Street Road
The Lost Boyz
Barstool Prophets
Glass Tiger

Friday, July 11th

Trailer Five
The Paul Deslauriers Band
The Glorious Sons
54-40

Saturday, July 12th

Mandee Woods
Hadrian's Wall
The Devin Cuddy Band
Alan Doyle

Sunday, July 13th

Busker's Dream
Gentleman Husbands
Small Town Pistols
Doc Walker
Festival passes are now on sale.
About Cornwall Lift-Off:
Cornwall Lift-Off was founded in 1994 and has since hosted back-to-back Canadian National Hot Air Balloon Championships in 1996 and 1997. The success of the festival has grown considerably since its modest beginnings in 1994. Each year, the festival welcomes approximately 25 hot-air balloon teams, the Homenuik Rides carnival, a spectacular fireworks display, Family Zone, and great local and international musical entertainment. Past entertainers have included Dean Brody, Burton Cummings, Marianas Trench, Down With Webster, Sloan, Dennis DeYoung of Styx, Tom Cochrane, Colin James, Amanda Marshall, Theory of a Deadman, Finger Eleven, Collective Soul, Loverboy, Trooper, Kim Mitchell, April Wine, Our Lady Peace and Chantal Kreviazuk.
For more information about this year's Lift-Off Festival please visit:
Categorised in: Arts and Entertainment, General, News