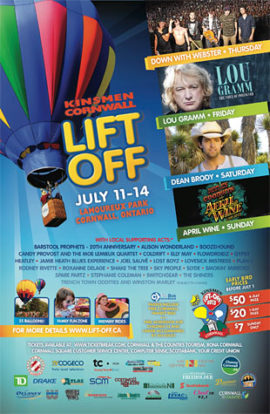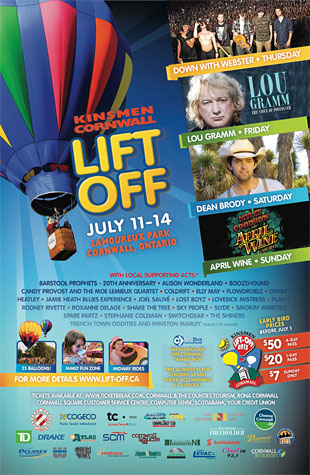 Lift-Off Music Line-Up Announced for July 2013
April 27, 2013
Cornwall Ontario – Well over 100 people packed Cornwall's Au Vieux Duluth restaurant to hear first hand who will be performing at this year's Lift-Off Festival.  Entertainment Director Jason Mitchell did not disappoint, telling the crowd that Lift-Off 2013 is a celebration of music before announcing the entertainment lineup for the popular festival held every year in mid-July.
Headliners announced include:
Down With Webster – Thursday, July 11
Lou Gramm: The Voice of Foreigner – Friday, July 12
Dean Brody – Saturday, July 13
April Wine – Sunday, July 14
Perhaps the biggest cheer was for Cornwallite Roy Nichol, who plays drums for Myles Goodwyn & April Wine and was in attendance. The addition of music on Sunday means 4 complete days of entertainment, a first for the Lift-Off stage.
This year there will be more local bands then ever performing at Lift-Off, a testament to the growing music scene in Cornwall.
"We had over 100 band submissions", reports Festival co-chair Jason Jesmer. "It is amazing that we are able to support so many of them this year."
Local bands playing at Lift-Off include:
Barstool Prophets
Switchgear
Trench Town Oddities
Sky People
The Shiners
Coldrift
and many more!
One of Cornwall's hardest working and most popular bands, Trench Town Oddities, helped the crowd celebrate with a live performance. Many other local musicians posted comments online, including Graham Greer, whose Barstool Prophets will be playing July 12th just ahead of Foreigner's Lou Gramm.
"This will no doubt spring a heated discussion between lead singers over who has Graham/Gramm spelled right," joked Mr. Greer.
"After much demand the Board is really excited about having a Country act this year. Dean Brody has won numerous music awards including Male Country Artist of the Year at the 2012 CCMA's and we are sure he will be a great addition to our line-up," noted Mr. Jesmer.
Lift-Off kicks off July 11-14 in Lamoureux Park in Downtown Cornwall. Additions to the Festival line-up may occur. People can keep updated on Festival news by 'liking' the Cornwall Lift-Off Facebook page or visitingwww.lift-off.ca.
About Cornwall Lift-Off
Cornwall Lift-Off was founded in 1994 and has since hosted back-to-back Canadian National Hot Air Balloon Championships in 1996 and 1997. The success of the festival has grown considerably since its modest beginnings in 1994. Each year, the festival welcomes approximately 25 hot-air balloon teams, the Homenuik Rides carnival, a spectacular fireworks display, Family Zone, and great local and international musical entertainment. Past entertainers have included Burton Cummings, Marianas Trench, Sloan, Dennis DeYoung of Styx, Tom Cochrane, Colin James, Amanda Marshall, Theory of a Deadman, Finger Eleven, Collective Soul, Loverboy, Trooper, Kim Mitchell, April Wine, Our Lady Peace and Chantal Kreviazuk.
Categorised in: Arts and Entertainment, General, News