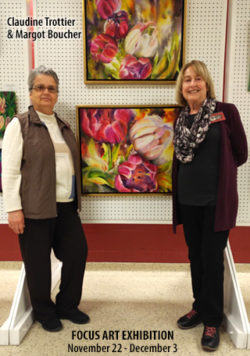 Local Art on Display at the Benson Centre
November 25, 2017
Cornwall Ontario – Focus Art is holding a exhibition of local art at the Benson Centre. this month.
The show features 84 pieces of art from over 35 local artists from Cornwall and area.
"We have held an art exhibition each fall for the last number of years," says artist Claudine Trottier. "It is a great opportunity for the public to see the diversity of art on display and to talk with local artists."
There is a wide variety of art for visitors to view, including landscape, wildlife and abstract works. The art also offers a glimpse to the different mediums available to the artists, including:
Oil
Acrylic
Watercolour
Digital Photography
Mixed Media
"The exhibit has been busy – a lot of people have come to the Benson Centre specifically to see the show," says local artist Margo Boucher. "We have also welcomed many young athletes that have just finished their hockey or soccer games. It is a great community space."
Visitors to the exhibit are asked to fill out a ballot indicating which work of art is their favorite. Each ballot will also be entered into a draw for a $25 gift certificate from Cornwall Square.
Most of the artwork on display will be available for purchase after the show.
FOCUS ART Art Exhibition – 2017
The show runs from November 24 through to  December 3 in the McEwen Room of the Benson Centre:
Monday to Friday – 5pm – 9pm
Saturday 10am – 4 pm
Sunday 11am – 4pm
Tuesday November 28 is Senior's Day and the Exhibit will be open from 10am to 4pm.
About Focus Art
Focus Art is a well-established organization of close to 100 artists from Cornwall and SDG. Members meet on the first Wednesday of the month.
You can find Focus Art online:
Categorised in: Arts and Entertainment