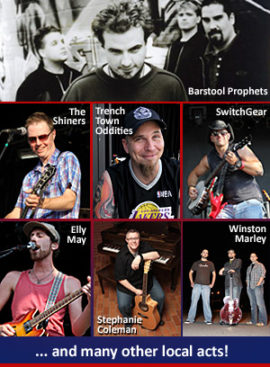 Local Music Takes Centre Stage at Lift-Off
July 10, 2013
Cornwall Ontario – This year's Lift-Off festival will be record setting: not only will it be the longest ever at four days, it will also feature more music than every before.
Leading the charge will be over 20 local bands and musicans. The variety of the music will range from country to ska, including dance and jazz. Yet one can be certain, the quality of Cornwall's music scene has never been higher.
"We have some amazing artists here in Cornwall, and its nice to see so many of them getting exposure on the big Lift-Off stage," says Graham Greer, frontman for the Barstool Prophets, who play Friday night.
Mr. Greer should know what he is talking about. In addition to a successful solo career, he has been helping several local musicians craft new music. One of those artists is singer-songwriter Stephanie Coleman, whose debut CD is being produced by Mr. Greer.
"Getting a chance to play Lift Off will be an excellent opportunity to promote my upcoming album," says Ms. Coleman. "This event will provide many of our local artists with a chance to shine and be proud to call Cornwall home. It's a pleasure to be invited!"
Lift-Off has always provided a stage for local musicians, but the decision to significantly feature more music has been roundly cheered in Cornwall.
"Playing Lift-Off is a real treat for us" says Sean Harley, lead singer of the Trench Town Oddities.  "We play most of our shows south of the border and this is our first time performing the event to our hometown crowd. All I can say, it is like coming full circle and it feels great!"
"Cornwall's music scene is second to none and we can't wait to perform side by side with our brothers and sisters in music!"
Mr. Harley and his Trench Town Oddities are also hard at work on a new album, as is up and coming band Elly May. The band played the Festival last year, and impressed organizers with their brand of alt-rock. Elly May's performance will include songs from their upcoming sophomore CD entitled A Better Place Than Here.
"We are looking forward to sharing the stage with many of our good friends in the local music community," said Elly May frontman Matthieu Levesque. "Its safe to say its gonna be one hell of a lovely evening and we look forward to seeing as many of you there as possible!"
Another band showcasing new music is Sky People,  who will be launching the release of their debut CDParalyzed.
"We decided that rather than hold our CD release on a separate night, we would host an after-party for all of our fans after the Lift-Off show," said Sky People's Davey Bedard.
The opportunity to play Lift-Off not only means exposure for a band, but also a chance to open for established actions such as Down With Webster, Dean Brody, Lou Gramm and April Wine. Incidently, April Wine also has a local connection – drummer Roy Nichol is from Cornwall.
One local drummer looking forward to the big stage is Ron Piquette of Winston Marley, who promises an energetic performance.
"Anytime we get a chance to play a showcase show like Liftoff we go all out," says Mr. Piquette. "This is a prime opportunity to showcase Winston Marley and our debut album Call Off The Search.
Fans will also have a chance to pick up some unique and hard-to-find merchandise from local bands. The Barstool Prophets will have some limited edition compilation CDs available as well as some slick new tees.
"We were granted license by Universal Music to use tracks from both Polygram releases and are combining these with Deflowered tracks as well as out-takes from Crank and Last of the Big Game Hunters," says Mr. Greer.
Tickets to Lift-Off's concerts are only $50 for all four days.  Doors open 30 minutes before the first band is scheduled to take the stage.
Thursday July 11th, 2013
2:30PM Flowdroidz
3:30PM BoozeHound
4:30PM Slyde
5:30PM Elly May
6:30PM Coldrift
7:30PM Trench Town Oddities
8:30PM Sky People
9:30PM Down With Webster
Friday July 12th, 2013
2:30PM Shake the Tree
3:30PM Jamie Heath Blues Experience
4:30PM Plan C
5:30PM Joel Sauvé
6:30PM Lost Boyz
7:30PM The Shiners
8:30PM Barstool Prophets – 20th Anniversary
9:30PM Lou Gramm: The Voice of Foreigner
Saturday July 13th, 2013
2:30PM Smokin' Mirrorz
3:30PM Alison Wonderland
4:30PM Gypsy
5:30PM Heatley
6:30PM Winston Marley
7:30PM Rodney Rivette
8:30PM SwitchGear
9:30PM Dean Brody
Sunday July 14th, 2013
10:00AM Lovesick Mistress
11:00AM Stephanie Coleman
12:00PM Candy Provost & the Moe Lemieux Quartet
1:00PM Roxanne Delage
2:00PM Spare Partz
3:00PM Myles Goodwyn and April Wine
About Cornwall Lift-Off
Cornwall Lift-Off was founded in 1994 and has since hosted back-to-back Canadian National Hot Air Balloon Championships in 1996 and 1997. The success of the festival has grown considerably since its modest beginnings in 1994. Each year, the festival welcomes approximately 25 hot-air balloon teams, the Homenuik Rides carnival, a spectacular fireworks display, Family Zone, and great local and international musical entertainment. Past entertainers have included Burton Cummings, Marianas Trench, Sloan, Dennis DeYoung of Styx, Tom Cochrane, Colin James, Amanda Marshall, Theory of a Deadman, Finger Eleven, Collective Soul, Loverboy, Trooper, Kim Mitchell, April Wine, Our Lady Peace and Chantal Kreviazuk.
Categorised in: Arts and Entertainment, General, News