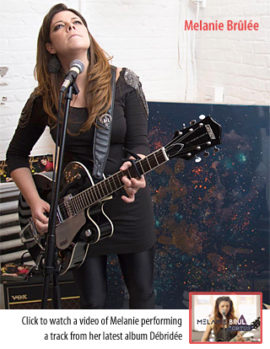 Melanie Brulée Unleashes Her Spirit On New Album
May 25, 2015
Cornwall Ontario – Melanie Brûlée is a busy girl these days. And while she is at times stressed about her schedule and the demands of her career, she is also very excited about her new album, Débridée.
"You could say that I am happy and nervous – all at the same time," says the singer songwriter. "I feel very grateful and blessed for the opportunities to push my music forward."
To those who have followed her career, Débridée is both a logical and surprising progression of her music talent. All but one of the 10 songs on the album are in French, and she has put down the acoustic guitar to play electric guitar – so there's a lot of energy onstage now.
"It's much rock-ier and grunge-ier than what I have played in the past. I'm really getting into playing more electric guitar and discovering the world of guitar pedals and digital sounds."
While each song has its own meaning, Melanie says the core theme running throughout is the exact moment of realizing one's freedom.
"There's also a theme of mental health throughout the album. I feel that it's a subject we don't talk about enough. Hopefully I can add to the conversation."
Melanie developed her talents learning chords from fellow travelers and busking on the streets of Australia. She returned to her hometown Cornwall to release an album with the General Electryk before the band parted ways. She would later move to Toronto where in 2012 she released her debut solo EP, Sucré/Salé, a bilingual effort that garnered positive reviews.
"Toronto is the first big city I've lived in and I was worried that I would feel lost but as it turns out, Toronto is a whole bunch of small communities which suits me well," says Melanie. "Musically, Toronto is recognized as a hub in North America, on par with LA and New York. I'm lucky to be around so much talent and drive. I am learning a ton about the business by osmosis."
Melanie describes Débridée as 'ìndie-spaghetti-western-surf-pop-rock'.
"When someone tilts their head sideways confused at this description, I tell them it sounds a bit like a Quentin Tarantino soundtrack in French!"
After years away from Cornwall, she felt her French was starting to slip.
"I wanted to get back to being able to think in French again," says Melanie. "It took travelling to Paris to find my roots to realize that I'm Franco-Ontarian through and through. Avec un peu de sang Quebecois grâce à mon père!"
The album's release coincides with the 400th anniversary of Francophones in Ontario and Melanie will help Cornwall celebrate with a performance in Lamoureux Park on June 6th for La Semaine Française. The concert gets underway at 6:30pm.
"My fans are so supportive, the response has been all positive," says Melanie. "It's my mission to introduce Francophone music to people who may otherwise not have access to it. I think it's working."
Still, Cornwall will always beckon as home to the rising star.
"I come home every few month for a Cornwall fix! I do miss my family and friends though I work hard on trying to be present to where I am at any given time," says Melanie. "I'm stoked at all the new cool eco-ventures happening in Cornwall. It's inspiring to see my friends adding to the quality of the city."
Melanie will be touring all summer and you can catch her in Eastern Ontario for a few festivals as well as a show at the Blacksheep Inn (August 22). She is also helping to organize an off-site music festival in conjunction with Franco-Fête called French Connexion in Toronto for 2 weeks during the Pan-Am Games.
"The Francophone music presence will be alive and well during what will be Canada's largest multi-sport event in history and I'm lucky that I'll be a part of the history!"
The album is also getting airplay in Quebec, and she plans to spend a lot of time in France, Germany, Belgium and Switzerland in the next couple years.
You can find all Melanie's tour dates on her website, where you can also order a signed copy of the album. The album is also available on iTunes, at HMV and Strung Out Guitars in Cornwall.
About the Music
Almost all of the songs on the album are collaborations between Melanie Brûlée and other Francophone Canadian artists, including Anique Granger, Charles Tilden, Daniel Peloquin-Hopfner and Faye Blais. The album was produced by multi-instrumentalist Benoit Morier . Musicians on the album include `Champagne` James Robertson on guitar, Tyler Emond (bass), Gary Craig on drums as well as Benoit Morier (on guitar, bass, drums and harmonies) and guest artists like Faye Blais, Andre Papanicolaou, Simon Blouin, Anique Granger and Josh Turnbull.
The current touring band includes Tyler Emond on lead guitar, Kelsey McNulty on synth and bass synth as well as Mack Longpre on drums.
Categorised in: Arts and Entertainment, General, News