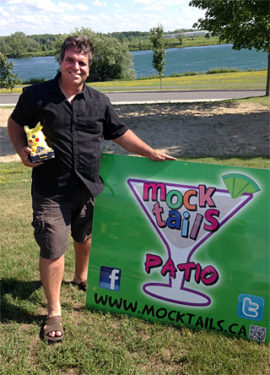 Mocktails Reopens on Cornwall's Waterfront with Pokemon Go
July 15, 2016
Cornwall, Ontario – One of Cornwall's favourite waterfront pastimes has returned for the summer, and this weekend, they are bringing the world's hottest game with them.
Mocktails is sponsoring a Pokémon Crawl tomorrow (Saturday, July 16) in Lamoureux Park, and dozens if not hundreds of gaming fans are expected to participate.  The company is offering non-stop lures, Pokemon charging stations and Poke Stop Modules all day. The Pokemon movie will be played on the Mocktails Jumbo Movie Screen in the evening (approx. 8:45pm)  with additional prizes and draws during the movie.
"We are inviting fans of all ages to join us in Lamoureux Park for a full day of locating your favourite Pokemon," says Mocktails owner Paul St. Onge.  "There are people already playing the game in Cornwall, some in the Park right now, and Pokémon Go hasn't even been offically released in Canada yet."
The Pokémon Crawl event is free, and starts at 10am.
Pokémon GO is a free augmented reality mobile game that makes use of the GPS systems on mobile phones. Using the player's location, the game allows players to capture, battle, and train virtual Pokémon who appear throughtout the real world.
Pokémon franchise spans video games, trading cards, TV and movies. Pokémon is centered on fictional creatures called "Pokémon", which humans known as Pokémon Trainers catch and train to battle each other for sport.
The Mocktails patio will be open for the rest of the summer, along with the adjacent beach volleyball court. Mr. St. Onge is returning from a year-long hiatus as he was busy last summer helping to organize the Pan Am Games in Toronto.
"I view this as a community patio, and any revenues are turned back into creating unique experiences to help people enjoy Cornwall's waterfront," says Mr. St. Onge.
About Mocktails
Mocktails is located on the southwest patio at the Cornwall Civic Complex, offering great views of the St. Lawrence River. Mocktails offers fresh non-alcoholic beverages and other drinks and treats for breakfast, lunch and dinner crowds.
Mocktails will be open from Thursday to Friday, from 11AM to 8PM each day, or later if business warrants. Outdoor movies are planned each Saturday night.
For more information on Mocktails Cornwall, visit their page on Facebook:
Categorised in: Arts and Entertainment