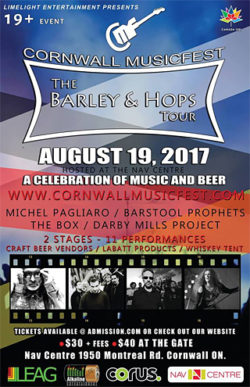 Musicfest 2017
August 8, 2017
Cornwall Ontario – On Saturday, August 19th 2017 join us in celebrating Cornwall's Largest 19+ Outdoor Summer celebration of Music and Beer – the second annual Cornwall Musicfest "The Barley & Hops Tour" hosted at the NAV CENTRE.
Headline Performances by Michel Pagliaro, Barstool Prophets, The Box and the Darby Mills Project
Limelight Entertainment has partnered with the NAV CENTRE, CORUS ENTERTAINMENT and ALKALINE ENTERTAINMENT to deliver a Signature celebration of Music and Beer for the City of Cornwall and surrounding communities – witness outstanding performances featuring some of the Country's top recording artist and celebrate a day in the sun with visitors from the City of Cornwall, Akwesasne and the Counties of SDG – Eastern Ontario, Western Quebec and Northern New York State.
We are proud to introduce our 2017 Cornwall Musicfest Co-Headline Performers –
Michel Pagliaro, a Juno Nominated Canadian Rock Singer, Songwriter and Guitarist from Montreal, Quebec. Pagliaro is the first Canadian Artist to receive Gold Albums and score top 40 hits in both the Anglophone and Francophone pop charts in Canada. Pagliaro received the Governor Generals Performing Arts Award for Lifetime Artistic Achievement, Canada's highest honor in the performing arts – Pagliaro has been honorably recognized by the Canadian Songwriters Hall of Fame and is a recipient of the SOCAN National Achievement Award.
Barstool Prophets, The hometown hero Barstool Prophets are a Canadian Rock Band that formed in Cornwall, Ontario – The band signed to Mercury Records and released Crank in 1995 and Last of the Big Game Hunters in 1997, toured Nationally on the big stage and featured many Canadian rock radio hits in the mid-late 90's.
The Box, a Juno nominated Canadian New Wave Group that achieved commercial success in Canada – recording four charting Albums, 10 charting Singles and fronted by Montreal Keyboardist Jean-Marc Pisapia a former member of the Canadian Band "Men Without Hats".
Darby Mills Project, Darby Mills is one of Canada's iconic female rock vocalist, best known as the voice of the Juno nominated Canadian Rock Band the Headpins. She enjoyed a three album run at the top of the Canadian Charts, "Turn it Loud" quickly went Platinum and she toured in North America and Europe while opening for bands such as KISS, Whitesnake, ZZ Top and Aerosmith.
Cornwall Musicfest House Band – The Legendary Castaways
6 Acoustic Performances – TBA
Regular Festival Tickets can be purchased at The Cornwall Square Lotto Kiosk and the NAV Centre Cafe for only $30. Festival VIP Tickets are only $60 each and also available at the NAV. Tickets are also available at the Cornwall Civic Complex Box Office for $30 + Fees and also ADMISSION.COM for $30 + Fees. Day of Tickets will be $40 at the gate.
The 2017 Festival will feature a total of 11 Musical Performances on two stages, products from the Labatt Brewing Company – Canada 150 Whisky Tent featuring the Whisky Lassie – some of our Signature Craft Brewers joining us at Cornwall Musicfest 2017 – The Barley & Hops Tour include Rurban Brewing, Cassel Brewery, Tuque de Broue, Saw Dust City Brewing Company, Whitewater Brewing Company, Muskoka Brewery, Kichesippi Beer Co., 4 Degrees Brewing Company and Bellwoods Brewery.
Let's Rock the Shores of the St. Lawrence River and Celebrate Music and Beer
Stay tuned for more exciting news to come and visit us frequently at www.cornwallmusicfest.com for all the latest news
Limelight Entertainment is a Division of Limelight Music and Arts Academy, 160 Pitt Street – Unit 203
Categorised in: Arts and Entertainment