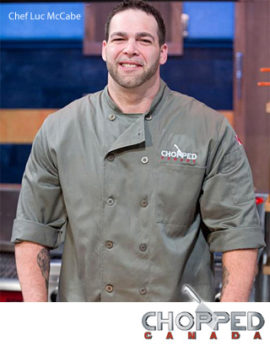 NAV CENTRE Chef To Compete on Chopped Canada
December 5, 2014
Cornwall Ontario – A Cornwall chef with the determination of an athlete, Luc McCabe will be competing on Season 2 of the popular television show Chopped Canada.
Mr. McCabe is the executive chef at the NAV CENTREin Cornwall, a world-class conference centre that has hosted government and business leaders from around the world. Chef McCabe competed against thousands of applicants to secure one of the 52 available spots.
Premiering to  record-breaking audiences on the Food Network, the top-rated culinary competitionChopped Canada returns for a second season with three new celebrity judges, even more challenging ingredients, special themed episodes, and chefcontestants from all over Canada.
In each high-stakes episode, four chefs compete before an all-star rotating panel of three expert judges. Armed with skill and ingenuity, the chefcompetitors race against the clock to turn mystery ingredients into an extraordinary three-course meal. Course by course, the judges chop the chefs from the competition until only one remains. With $10,000 on the line, the stakes are high. Who will survive the chopping block?
Chef McCabe brings 16 years of experience and an education in Culinary Management from Algonquin College to Chopped Canada. He is also no stranger to competition.
Chef McCabe was the runner up in the Copper Skillet competition held recently in Toronto. The Copper Skillet is the championship for Conference Centre chefs in Canada.
In August, Chef McCabe was instrumental in organizing and judging the first "Iron Pan" competition at Upper Canada Village.
Chopped Canada returns with its second season premiering Saturday, January 10th at 9 E/P. Chef McCabe appears in episode five "Viewer's Choice: Land, Sea, Air."
Read more online: http://www.foodnetwork.ca/shows/chopped-canada/
About the NAV CENTRE
Located on the scenic shores of the St. Lawrence River in Cornwall, the NAV CENTRE is a full service conference centre offering access to 551 guest rooms and 70 dedicated state-of-the-art meeting rooms, spa, fitness centre with indoor pool and an Irish pub with live entertainment. The Centre can accommodate small groups of five to large groups of up to 500. Learn more at www.navcentre.ca.
Categorised in: Arts and Entertainment, General, News