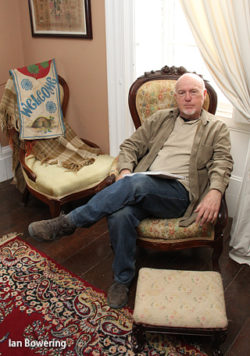 New Book Explores the Secrets of the St. Lawrence River
April 5, 2017
Cornwall Ontario – When French explorer Jacques Cartier first sailed up the St Lawrence River in search of a passage to the Orient, his voyage was impeded by a series of violent rapids, running from Montreal to Prescott.
For the next 300 years, this region of the river remained relatively isolated, until United Empire Loyalists established a settlement on the site of what is now modern day Cornwall.
Historian Ian Bowering, writing with local author and artist Lor Pelton, has chronicled the secrets of the St. Lawrence in a new book entitled The Living River.
"The St. Lawrence River was crucial to the development of Upper Canada, and helped establish Montreal Cornwall and Prescott as major centres of commerce," says Mr. Bowering. "Today, the river remains equally important, especially when it comes to recreation."
The 221 page book is stocked full of photographs and maps gleaned from the archives of the Cornwall Community Museum as well as Archives Canada and other sources. Tales include:
Rebellions of 1837-38, Fenian (Hunter) Raids, and the German plan to attack Canada
Tourist homes at Stanley Island and steamboat cruising in the Gilded Age
Elephants marching into Cornwall and swimming in the river
Collapse of the International Bridge at Cornwall
Sinking of the Eastcliffe Hall, Milverton, Corsican, and other river wrecks
Flooding of the Lost Villages:
Creation of the St. Lawrence Seawway
and more!
"During the mid-twentieth century, Cartier's dream of navigating the river from Montreal to Prescott became possible with the construction of the St Lawrence Seaway, which dramatically changed the topography of the region," says Mr. Bowering.
The Living River is published by Quarry Press and is available for $30. It can purchased at the Cornwall Community Museum, Wednesday through Sunday, 11 am to 4 pm.
About Ian Bowering
Ian Bowering is the curator of the Cornwall Community Museum and the author of several best-selling history books, including Bowering's Guide to Eastern Ontario, Cornwall: Industrial Town to Seaway City, and the Cornwall Scrapbook. He has also written extensively on the history of beer brewing in Ontario, and has appeared as a guest on many television and radio shows.
Categorised in: Arts and Entertainment