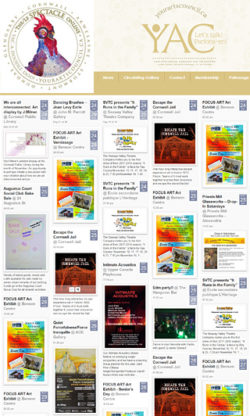 New Online Arts Calendar for Cornwall and Region
November 24, 2017
Cornwall Ontario – Looking for something to do this weekend? Or next week?
If you are interested in the arts, you now have a new resource – a web-based calendar called The/Le SPECTACLE Online!
The new online calendar for art related events in Cornwall, Akwesasne and SD&G was launched recently by Your Arts Council (YAC).  It is primarily an automated and self-serve system that monitors local group Facebook events on an hourly basis.
"This initiative is just what the region's Arts and Culture sector needs-a single inclusive and comprehensive resource for information for both finding out what's happening, and getting the word out about our events," says Richard Salem, YAC facilitator and The/Le SPECTACLE Online administrator.
Local artists and cultural organizations are very excited about this new project. In a very short time, dozens of events are now readily accessible.
The calendar is accessible via YAC's home page at http://yourartscouncil.ca . There visitors are presented with dozens of event listings. User can also search by venue, type of event and organizers.
"People who are interested in dance can quickly see all of the dance events," notes Mr. Salem. "In a similar way, if you are looking for live music, or for art galleries, the information is easy to find."
All art-related events which involve local artists are eligible, be they performance, literary, or visual in nature and must take place in the region of Cornwall, Akwesasne, and the United Counties.
The/Le SPECTACLE Online also distributes the events to the YAC Facebook and Twitter (@yourartscouncil) feeds.
Groups and organizations whose events are not appearing in the calendar are welcome to contact Mr. Salem or submit their events directly utilizing the "Submit Event" button on the calendar.
About Your Arts Council
Your Arts Council (YAC) is an organization created to nurture and support an inclusive environment where creativity has a voice in Cornwall and The Counties. Working with strategic partnerships, the organization works to connect resources and create opportunities for continuous improvement and mutual financial sustainability within the region's Arts and Culture Sector.
Categorised in: Arts and Entertainment