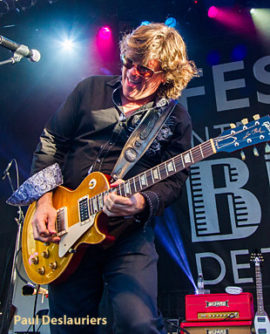 Paul Deslauriers and 54-40 to Light Up Lift-Off Tonight
July 11, 2014
Cornwall Ontario – There is a storm brewing in Cornwall  – despite the blue sunny skies above. The storm will be touching down in Lamoureux Park tonight –  fuelled by electric guitars, rhythmic bass and thumping drums.
It is Day 2 of Lift-Off, and the music line-up is simply fantastic. Canadian rock icons 54-40 headline tonight, and are supported by The Glorious Sons and the Paul Deslauriers Band.
For Cornwall's Paul Deslauriers, this is a very special stop on what is shaping up to be a very busy summer festival season.
"We could not be more happy to play Lift-Off," says Mr. Deslauriers. "I am very excited to be back home playing in front of so many friends."
To suggest that this has been a good year for Mr. Deslauriers would be an understatement. The Cornwall native was named top blues guitarist in Canada this spring, about the same time he released his latest album The Paul Deslauriers Band. Within a month the record was #1 on the Canadian Blues Chart on iTunes and it has led to sold out gigs as they tour to support the record.
Mr. Deslauriers and his bandmates, Sam Harrison on drums and Greg Morency on bass, have just finished playing to back-to-back performances at the Montreal Jazz Fest and the Mont Tremblant blues festival.
"We cut the album to be a faithful representation of how the band sounds live and on the floor," says Mr. Deslauriers. "We were not prepared for the reaction – all of the reviews have been stellar."
Fans attending tonight's show in Lamoureux Park can expect the honest, straight forward sound that the band is known for.
"The kind of music we make is based up improvisation and the interaction of players," says Mr. Deslauriers. "That formula is often missing in today's music. We will be bringing back "the dirt" to Cornwall in the sense that is a live thing without polish. This is in the moment!"
Mr. Deslauriers will have copies of his CDs for sale along with T-Shirts and Posters.
"We are very lucky at each show to be able to meet and talk with the fans," says Mr. Deslauriers. "It is something we consider very special. After all, without them there would be no festivals."
The Glorious Sons
Following the Paul Deslauriers Band will the Glorious Sons, an emerging success story. The five piece rock band is based in Kingston Ontario and got their break by winning the Rocksearch contest. The band has recently released a debut EP to critical and popular acclaim.
54-40
Headlining tonight will be 54-40, a very popular Canadian alternative rock band based in British Columbia. Recognized as one of the most important popular music groups to emerge from the Canadian cultural landscape, the band has an unbelievable catalogue of hit songs, a legacy of gold and platinum albums and a outstanding reputation for their live performances.
Local band Trailer Five gets things started at 5:00pm on the main stage in Lamoureux Park. Single day and festival passes are available on site.
Related Stories
About Cornwall Lift-Off:
Cornwall Lift-Off was founded in 1994 and has since hosted back-to-back Canadian National Hot Air Balloon Championships in 1996 and 1997. The success of the festival has grown considerably since its modest beginnings in 1994. Each year, the festival welcomes approximately 25 hot-air balloon teams, the Homenuik Rides carnival, a spectacular fireworks display, Family Zone, and great local and international musical entertainment. Past entertainers have included Dean Brody, Burton Cummings, Marianas Trench, Down With Webster, Sloan, Dennis DeYoung of Styx, Tom Cochrane, Colin James, Amanda Marshall, Theory of a Deadman, Finger Eleven, Collective Soul, Loverboy, Trooper, Kim Mitchell, April Wine, Our Lady Peace and Chantal Kreviazuk.
For more information about this year's Lift-Off Festival please visit:
Categorised in: Arts and Entertainment, General, News