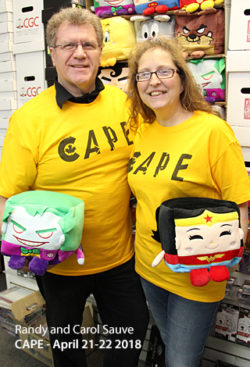 Pop Culture Fans Gearing Up for CAPE
March 29, 2018
Cornwall Ontario – Fans of pop culture have marked April 21-22 on their calendars.
Those are the dates of CAPE, a two-day event that celebrates the ever-popular entertainment genre of super hero story-telling.  Attendees get to meet special guests, browse vendors selling collectibles, and interact with other fans – many of which will be in full costume.
"We are even more excited this year than we have in the past – if that's possible," says co-organizer Randy Sauve. "So many more people have embraced the genre, thanks to blockbuster films such as the Black Panther and Star Wars and popular TV shows such as Supernatural and Star Trek."
Although there is no dress code, many fans take the opportunity to dress up for the event, which adds to the overall experience.
"Some of best interactions are from fan to fan, and each year the costumes just seem to get better and better," notes Carol Sauve, co-organizer. "Put on that Batman t-shirt and bring your camera!"
Special Guests this year include the following:
Randy Havens (Stranger Things, Archer)
Jayson Warner Smith (The Walking Dead)
Ari Lehman (Friday the 13th)
Rochelle Davis (The Crow)
Marie-Claude Bourbonnais (Cosplayer)
Estrada Sisters (Cosplayer)
Pat Patenaude (Author)
GC Julien (Author)
Also at CAPE will be professional cosplayers including Simon Fontaine (Ace Ventura/The Grinch) Ottawa Knights, Dr. Who Society and Ottawa Tardis. Fans will also be able to grab photos with the Mystery Machine from Scooby Doo, and the 1967 Impala from the TV show Supernatural.
Show Times
Saturday April 21 – 10:00 am to 6:00 pm
Sunday April 22 – 10:00 am to 5:00 pm
Ticket Info
Weekend Admission – Includes both Saturday and Sunday – $25 ($30 at the door)
Saturday ONLY – $15 ($18 at the door)
Sunday ONLY – $10 ($12 at the door)
Child Admission – FREE for children 12 & under (no ticket required)
Tickets are available at FANTASY REALM located at 227 Pitt Street in Downtown Cornwall, or online at www.cornwallpopevent.com. Tickets will also be available at the Benson Centre on the day of the event.
After Party
Head over to La Maison Tavern on Saturday night for an after party featuring live music from FirstJason, a band featuring the original Jason. This is a separate ticketed event.
About CAPE
CAPE stands for Cornwall and Area Pop Event, and is modeled after the popular comic-con events held around the world. The first CAPE was held in 2015 and is organized by Randy and Carol Sauve, two well known business people in Cornwall.
You can learn more online:
Categorised in: Arts and Entertainment