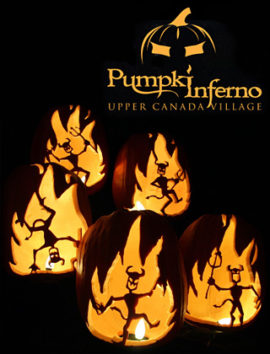 Pumpkinferno Returns to Upper Canada Village
October 2, 2013
Cornwall Ontario – Pumpkinferno is back to "ignite your imagination!"
Pumpikinferno is a hauntingly beautiful and spellbinding outdoor exhibit of close to 6,000 hand-carved pumpkins, set against a stirring night-time backdrop of the historic Upper Canada Village.
Pumpkinferno kicks off this Friday October 4 and runs through Halloween until November 2.
Last year visitors marvelled at eclectic displays of scenes of animals, creatures, exotic places and historic ages …. all carved from pumpkins! The experience was so creative and popular that it was named "BEST NEW EVENT IN ONTARIO"  by Festival and Events Ontario.
This year's event promises to be bigger and better – with an additional 2000 pumpkins on display along abrand new route to keep the event fresh and exciting for newcomers and returning visitors alike.
These aren't your typical jack-o-lanterns. The pumpkins feature highly intricate designs, most of which are combined to create magnificent, large scale masterpieces.
Driven to improve on the success and enchantment of last year's exhibits, the talented artists have gone one giant step further in their designs.
The House of Horoscopes features over 1000 pumpkins across the ceiling of a 54' wide, 14' high structure. Marvel at the beautiful skyscape of stars and find your elegantly designed Zodiac sign among them.
It's also important to note — and those who went last year already know — this is not a spooky Halloween walk. This is a celebration of the season, and nothing short of an impressive display of art that can be enjoyed by the entire family, and children of any age.
Organizers have also worked hard to improve parking and other logistical issues that arose due higher than expected crowds last year. This year there will be clearly defined admission lines, to avoid any confusion and allow the prepaid lines to move swiftly into the park (Hint: pre-purchase your tickets online ahead of time).
2013 Pumpkinferno Dates of Operation
Friday, October 4 to Sunday, October 6 (7:00 PM – 10:00 PM)
Thursday, October 10 to Monday, October 14 (7:00 PM – 10:00 PM)
Thursday, October 17 to Sunday, October 20 (7:00 PM – 10:00 PM)
Nightly – Thursday, October 24 to Saturday, November 2 (6:30 PM – 10:00 PM)
Pricing:
Children (5 and under): FREE
Youth (6-12): $10
Adult (13-64): $13
Senior (65+): $10
Pumpkinferno tickets can be purchased online at www.Pumpkinferno.com.
Stay for the Night
Turn your visit into an overnight getaway at one of Cornwall's finest hotels. The Best Western Parkway Inn, Cornwall Ramada Inn and Comfort Inn all offer Pumpkinferno packages.
Pumpkinferno is a can't miss event, and the perfect way to celebrate the fall and Halloween seasons with the entire family.
About Upper Canada Village
Upper Canada Village is located just a short 30 minute drive west of Cornwall, and 45 minutes south of Ottawa.
Categorised in: Arts and Entertainment, General, News