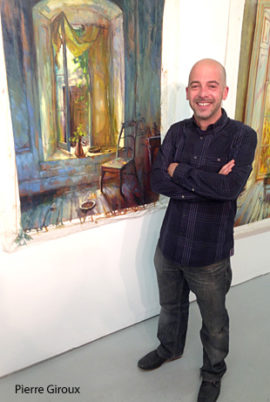 Renowned Artist Pierre Giroux Returns to Cornwall
June 6, 2014
Cornwall Ontario – Pierre Giroux has returned to Cornwall to add a little bit of colour to his hometown, one brush stroke at a time.
The accomplished artist recently exhibited some of his work at OBO Studios, and word quickly spread by word of mouth. Excited fans descended upon the downtown loft studio, and a few hours later more than a few paintings had a red dots beside them.
"It was a very good evening and it was very nice to see so many old friends and familiar faces," said Mr. Giroux.
For the past 15 years, Mr. Giroux has specialized in painting interior scenes of old homes, where the architechure and play of light seems to bring to life the memories and emotions of the space. His work is available through the well respected West End Gallery in Victoria and Edmonton.
Mr. Giroux was born and raised in Cornwall, attending école secondaire La Citadelle before heading to the Ontario College of Art and Design to further develop his natural artistic ability. During his final year, he and some fellow students headed over to Florence, Italy to study and experience the environment that has inspired so many artists.
"We were there to find out just what kind of artists we were, and where better to do so?" he recalls.
When money finally ran out, he returned to Cornwall. Over the next two years he would develop what has become his signature style by visting old houses in and around Cornwall and sketching for hours. Unfortunately, making a living at art is a difficult task, and he decided to return to school and study animation at Sheridan College. Within two years love and serendipity would lead him to the west coast where he would soon establish a following across Canada – and beyond.
"Having work in galleries can result in an ongoing demand for more paintings, and I have been very busy over the past 15 years," says Mr. Giroux.
His large French-Canadian family kept close watch on his career from Cornwall, and the absence would ignite a desire to return to his roots.
"My family is very close and they're a lot of fun. It's good to be back home."
Cornwall is also a lot more affordable to live in than Downtown Vancouver, and is a city with slightly older past. Mr. Giroux has recently joined the team at the Cornwall Community Museum to develop a series of interpretative plaques that will celebrate Cornwall's heritage. The museum, an 1840's home located in Lamoureux Park, is proving to be inspiration in and of itself.
"This is a beautiful building and I can see two or three ideas for paintings."
Mr. Giroux is currently at work on a couple of commissioned portraits, a format that he has not really worked in for 20 years. He is also inspired by the natural beauty of the countryside in and around Cornwall, and has completed the first of what will be a series of landscapes.
It says something about the area when an artist who has lived in Florence and Vancouver finds beauty in Cornwall.
You can connect with Pierre Giroux on Facebook.
Categorised in: Arts and Entertainment, General, News