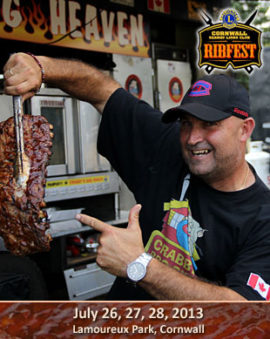 Ribfest Celebrates with Three Days of Food, Music and Fun
July 24, 2013
Cornwall Ontario – Lamoureux Park will be transformed into 'Ribber's Row' this weekend for the second annual Cornwall Seaway Lions Club Ribfest.
The three-day event kicks off Friday July 26th, offering award winning ribs from across North America along with a great line-up of live entertainment, carnival rides and much more. In addition to the great ribs, this year's edition of the festival will feature 19 different vendors offering a wide assortment of foods and drinks to compliment the six rib teams in attendance.
The inaugural Ribfest in 2012 was welcomed by thousands of hungry festival goers who visited the park to try out the award winning ribs. The collective appetite of festival goers actually outstripped demand – the entire weekend's supply of ribs was actually sold out on the opening night of the festival, and a truckload of supplies had to be shipped in for the remainder of the event.
"Everybody that was involved with us last year was hoping to get 20,000 people," said Phil Shorey, President of the Cornwall Seaway Lions Club. "Instead we figure it was closer to 47,000."
Residents who are looking to relive last year's rib experience are in luck as the popular rib teams from 2012 will be back in Lamoureux Park for the weekend. They include the Smokehouse Bandits (from North Carolina), Texas Rangers (Texas), Crabby's BBQ Shack (London, Ont.), Fatboys (Milwaukee), Ribs Royale (Las Vegas) and The Chop Shop (North Carolina).
In addition to the succulent smell of the grill, live music will fill the air all weekend long. Headliners include Hotel California, a well known Eagles tribute band, on Friday night. Pauly & The Goodfellas will bring an exciting combination of rock and soul with a dash of musical comedy to the park on Saturday, while Greg Hanna will offer a taste of Ontario-born country music on Sunday night. The full music line-up includes:
Friday, July 26th
Chris Hum (11 am – 12:30 pm)
Roxanne Delage (1 pm – 2:30 pm)
Heatley Band (2:45 pm – 4:30 pm)
Elly May (5:30 pm – 7 pm)
Rock Alley (7:30 pm – 9 pm)
Hotel California (9:30 pm – 11 pm)
Saturday, July 27th
Grace Willison (11 am – 12:30 pm)
The Flow Droidz (1 pm – 2:30 pm)
Buskers Dream (3 pm – 4:30 pm)
River City Junction (5 pm – 6:30 pm)
The Shiners (7 pm – 8:30 pm)
Pauly & The Goodfellas (9 pm – 11 pm)
Sunday, July 28th
Hoyt Hughes (12 pm – 1:30 pm)
Switchgear (2 pm – 3:30 pm)-
Greg Hanna (4:30 pm – 6 pm)
Sunday also hosts the Judging of Ribs, where the best of the rib vendors is chosen by a panel of judges.
The Ribfest Midway by Classic Amusements is also making a return, along with the Lions Club Beer Garden sponsored by Beau's brewing company.
Ribfest will run from 11 am to 11 pm on Friday and Saturday, and 11 am to 7 pm on Sunday (the midway will be open during the same hours).
For more information, visit the Ribfest website.
Ribfest is a major fundraiser for the Cornwall Seaway Lions Club, and proceeds from the event help to support a variety of community projects and initiatives.
Categorised in: Arts and Entertainment, General, News