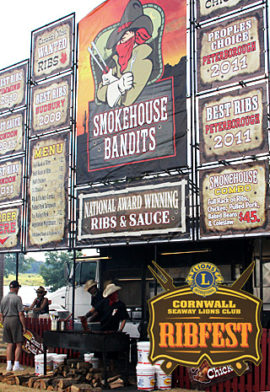 Ribfest Is Back – A Fun And Tasty Event For All
July 13, 2015
Cornwall Ontario – Summer has arrived and with it comes one of the region's tastiest events – the Cornwall Seaway Lions Club Ribfest.
Ribfest will be held at Lamoureux Park from Friday July 24th to Sunday July 26th, allowing people to head down to the banks of the St. Lawrence River and indulge their love of ribs. As a bonus, festival organizers have once again organized a line-up of live entertainment.
Admission is free.
"All of last year's ribbers are back for 2015," said event chair Phil Shorey.  "Be prepared for the great smell of BBQ to take over the city once again."
Tasty Treats
One of the unique features of Ribfest is the diversity of the rib vendors, who have travelled far and wide to share their unique recipes. Vendors that will be in attendance at the 2015 Ribfest are:
Crabby's BBQ Shack
Chop Shop BBQ
Fat Boy's BBQ
Ribs Royale
Smokehouse Bandits
Texas Rangers
Pig Kahuna Island BBQ
Ribfest will also include other food vendors that offer food choices like shawarma and Caribbean food.
Entertainment Lineup
Ribfest will have live, family friendly entertainment throughout the weekend.
Friday July 24
1:30-3:00pm – Grace Willison
3:30-5:00pm – Carey B. Grant
5:30 – 7:00pm – Landmark
7:30 – 9:00pm – Lost Boyz
9:30 – 11:00pm – AC/DC WHO MADE WHO
Saturday July 25
1:30 – 3:00pm – Alison Wonderland Band
3:30 – 5:00pm – Buskers Dream
5:30 – 7:00pm – Trench Town Oddities
7:30 – 9:00pm – Front Row
9:30 – 11pm – KISS SONIC BOOM
Sunday July 26
12:30 – 2:00pm – Texas Tuxedo
2:30 – 4:00pm – Falling Grace
4:30 – 6:00pm – RIDIN SHOTGUN
"We're very excited with the bands we've booked this year," said Mr. Shorey, event chair.  "We'll be rocking the park, no doubt."
Carnival rides and games will also be available at Ribfest.
Last year, orgnizers estimated 45,000 people attended Ribfest. For more details about this year's festival, follow these links:
Ribfest is a major fundraiser for the Cornwall Seaway Lions Club, and proceeds from the event help to support a variety of community projects and initiatives.
Categorised in: Arts and Entertainment, General, News