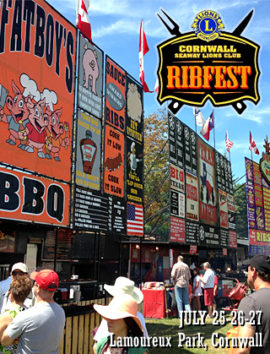 Ribfest returns to Lamoureux Park
July 21, 2014
Cornwall Ontario – Rib lovers will be able to satisfy their taste buds this weekend as Cornwall Seaway Lions Club Ribfest returns to Lamoureux Park.
The popular summer event returns with three days of live music, amusement rides and food, including the show-stealing, award-winning ribs that are the festivals' namesake.
The event kicks off on Friday, July 25th and runs through Sunday, July 27th.
This year's edition of Ribfest will feature award-winning ribbers from across North America, including some familiar names that have visited Lamoureux Park on previous occasions:·
The Smokehouse Bandits (North Carolina)
Texas Rangers (Texas)
Crabby's BBQ Shack (London)
Fatboys (Milwaukee)
Ribs Royale (Las Vegas)
The Chop Shop (North Carolina)
Pig Kahuna Island BBQ
In addition to the crowd-pleasing ribs, organizers are also bringing in a variety of other foods, including Middle Eastern specialties like shawarma and Caribbean food.
"We're really trying to bring in something for everyone," said Ribfest Spokesperson Colleen Carter. "We've looked at the profile of people and tried to gauge their interests."
Visitors to Lamoureux Park this year will have much more to see and do – the roster of vendors (both food and non-food) has grown to 60 this year, nearly doubling the amount from last year. Interest in the event is so high that even with the growth, organizers have had to turn some vendors away.
The festivities will also include a midway by Carter Shows Ltd. and live music featuring, among others, tribute acts for ABBA on Friday night, Bruce Springsteen on Saturday night and the Beach Boys on Sunday night. For the full schedule of events, please see below. Best of all, admission is free for the festival, which is expected to draw thousands to the park.
2014 Cornwall Seaway Lions Club Ribfest
Friday, July 25
11 am – 11 pm       Ribs and more on ribbers row
11 am – 11 pm       Family midway by Carter Shows
11 am – 11 pm       Beer garden
3:30 pm – 5 pm     River City Junction
5:30 pm – 9 pm     TBA
9:30 pm – 11 pm   Abbamania
Saturday, July 26
11 am – 11 pm       Ribs and more on ribbers row
11 am – 11 pm       Family midway by Carter Shows
11 am – 11 pm       Beer garden
1 pm – 2:30 pm     Shake The Tree
3 pm – 4:30 pm     Carey Grant
5 pm – 6:30 pm     FrontRow
9 pm – 11 pm         Glory Days – A Bruce Springsteen Experience
Sunday, July 27
11 am – 6 pm             Ribs and more on ribbers row
11 am – 6 pm             Family midway by Carter Shows
11 am – 6 pm             Beer garden
12:30 pm – 3:30 pm   Trilogy
3:30 pm – 4 pm           Rib judging
4 pm – 5:30 pm           Beach Party Boys
Categorised in: Arts and Entertainment, General, News