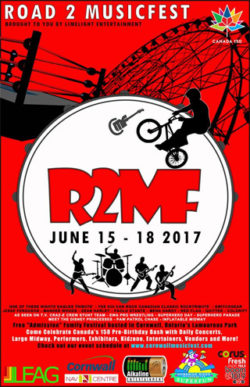 Road 2 Musicfest to offer Four Days of Concerts
May 25, 2017
Cornwall Ontario – Residents and visitors alike are being invited to Lamoureux Park in June for a 4-day festival –  Road 2 Musicfest.
The event will take place from Thursday, June 15th to Sunday, June 18th, and will offer daily concerts, performers, an inflatable activity world, and midway. It is being organized by Cornwall's Limelight Academy.
"We wanted to get people excited about local music, and prepare them for Musicfest which is happening later this summer," says Jason Mitchell.
Admission is free for the event, and organizers are hoping that the entire family will come down to the park.
Organizers are also still looking for additional sponsors, vendors and volunteers.
"We are always open to getting that extra little bit of help regardless of what you can offer," says Mr. Mitchell. "It promises to be a very fun and rewarding four days!"
Here is the schedule for R2MF – ROAD 2 MUSICFEST:
Thursday, June 15th 2017
4:00PM – Spectacular Midway by Homeniuk Rides ($)
4:00PM – Inflatable World
5:00PM – Bandshell Performance, Mandee Woods
6:30PM – Bandshell Performance, Jesse Ferguson
8:00PM – Signature Concert, One of These Nights Eagles Tribute Band
Friday, June 16th 2017
4:00PM – Spectacular Midway by Homeniuk Rides ($)
4:00PM – Inflatable World
4:30PM – Bandshell Performance, Mena Hardy
6:00PM – Bandshell Performance, Poalo Stante
7:30PM – Bandshell Performance, Sean Harley
9:00PM – Signature Concert – Canada 150 Canadian Classic Rock Tribute Band "Yes Oui Can Rock"
Saturday, June 17th 2017
11:00AM – Spectacular Midway by Homeniuk Rides ($)
11:00AM – Inflatable World
12:00PM – Bandshell Performance, Red Flag
1:00PM – CRAZ-E Crew Stunt Team, Extreme Sports
1:30PM – Bandshell Performance, Quitter
2:30PM – CRAZ-E Crew Stunt Team, Extreme Sports
3:00PM – Bandshell Performance, Coldrift
4:00PM – CRAZ-E Crew Stunt Team, Extreme Sports
4:30PM – Bandshell Performance, Switchgear
6:00PM – EWA Pro Wrestling
8:00PM – Bandshell, EDM Summer Dance Party
Sunday, June 18th 2017
12:00PM- Spectacular Midway by Homeniuk Rides ($)
12:00PM- Inflatable World
12:00PM – Superhero Parade, Come dressed up as your favorite Superhero and Meet Spiderman and Captain America
12:30PM – Bandshell Performance, RCSCC 110 Stormont Band
1:00PM – Rising Star Talent Showcase
4:00PM – Bandshell Performance, Junkyard Symphony
5:00PM – Inflatable World, Meet and Greet with the Disney Princesses and Chase from Paw Patrol
More information is available by visiting www.cornwallmusicfest.com
Categorised in: Arts and Entertainment