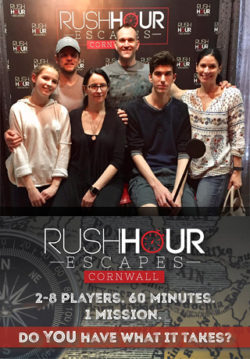 Rush Hour Escapes Opens in Cornwall
June 12, 2017
Cornwall Ontario – Looking for a quick escape this summer?
Rush Hour Escapes Cornwall is a new business that has just established in Downtown Cornwall. The company promises a unique interactive experience that is fun for people ages 14 and up.
Rush Hour Escapes is situated on the top floor of a century old heritage building on Pitt Street.  Groups of up to 8 people are put in a room, and have only one  hour to solve puzzles and escape the room.
Rush Hour Escapes is a family business, operated by Jordan, Colleen, Meagan and Sarah Campbell.
"We felt that Cornwall and the region needed another entertainment option," says Colleen Campbell. "We all need something to get our minds off of the stress of our lives.  Rush Hour will take you away for an hour of fun and excitement – and the experience is an adrenaline RUSH!"
Escape rooms have become very popular around the world. They offer a combination of intellectual challenges and interactive entertainment in a relatively short period of time. As such, it is an activity that both residents and visitors can easily fit in during a busy day.
"The great thing about escape rooms is, you'll never do the same one twice," says Ms. Campbell. "I must warn you though, once you do one, you will be booking your next one!  They are addictive!"
Jason and Angie Jesmer were in the first group to try the CSI Cornwall room at Rush Hour Escapes.
"We love a good challenge, and this room was just that!" says Mr. Jesmer. "If you haven't been to an escape room, put Rush Hour Escapes Cornwall on your list of things to do!"
Ms. Campbell and her family chose the Pitt Street location because of its proximity to Lamoureux Park and the many events that occur there each year.
"Downtown Cornwall is where it's at!  Shop, Eat, Rush Hour, Drink!"
Rush Hour Escapes is located at 54 Pitt Street in Cornwall. You can learn more and reserve your own escape experience online:
Categorised in: Arts and Entertainment