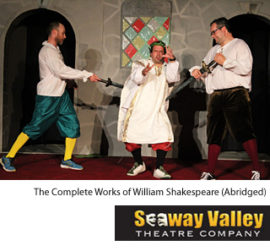 Seaway Valley Theatre Company Parodies The Bard
October 1, 2013
Cornwall Ontario – It's time to reconnect with the Bard.
The Seaway Valley Theatre Company is set to open their 2013/2014 season with The Complete Works of William Shakespeare (Abridged), a wildly entertaining parody of Shakespeare's comedies, tragedies, histories – including Romeo and Juliet, Titus Andronicus, Othello, MacBeth, Hamlet, and more.
The play is directed by Mike Petrynka and features Kyle Beaudette, Cameron MacPhee, and Grant Reso. The three talented and energetic actors attempt to present 37 of the Bard's plays in 90 minutes (or less), with comedic (mis)interpretations, fast paced dialogue, and frequent costume changes.
"Kyle, Cameron, and Grant are an amazing troupe that gelled right from the beginning," said Petrynka. "They will definitely have audiences laughing loudly with their antics, presence, and comedic timing".
If the name William Shakespeare stirs up haunting memories of high school English class, audiences should rest easy.
"This play is a parody at its finest", remarks Petrynka. "If you love Shakespeare, great. If you don't, even better".
The Complete Works of William Shakespeare (Abridged) will be presented at Dream Builder Studios in Cornwall, and runs Friday October 4, 5, 6 (matinee), 10, 11, 12. Curtain rises at 7:30pm, at 1:30pm for the matinee performance.
Tickets are $20 (plus applicable service fees) and available at the Cornwall Civic Complex box office or online at admission.com.
Dream Builder Studios is located at 2107 Second Street West.
About the Play
The Complete Works of William Shakespeare (Abridged) was written by Adam Long, Daniel Singer, and Jess Winfield, and is produced by special arrangement with Broadway Play Publishing Inc.. The play was first performed at the Edinburgh Festival Fringe in 1987 and later played at the Criterion Theatre in London, where it ran for nine years. It has become one of the world's most popular shows, playing frequently in a variety of languages. It is notable for holding the (self-proclaimed) world record for the shortest-ever performance of Hamlet, clocking in at 43 seconds, as well as the fastest performance of Hamlet backwards, at 42 seconds.
About The Seaway Valley Theatre Company
The Seaway Valley Theatre Company is a local amateur community theatre group that produces cabaret style plays, musicals, and children's shows each season. The group is supported by its volunteers, membership, and the local business community through sponsorship and advertising.
Categorised in: Arts and Entertainment, General, News