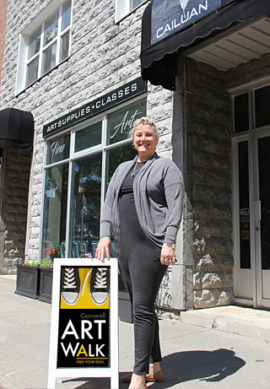 Cornwall Art Walk Adds Colour to Downtown
June 15, 2018
Cornwall Ontario – Now people visiting downtown restaurants and retailers will have a chance to get up close and personal with Cornwall's arts scene.
The Cornwall Art Walk is a new and innovative project taking place in downtown Cornwall – for one night each month.
Local artists will be present to paint or draw during the evening and to talk to people about their art. Art will be displayed on easels, in windows and on the walls of local businesses.
The event is scheduled for Thursday nights, once per month:
June 21
July 26
August 23
October 25
"This is a wonderful idea spreading across the U.S. and Canada – and now Cornwall!" says Tracy Davies, one of the organizers of the event who also happens to be both a business owner and contributing artist. "We'll be showcasing incredible local artistic talents in amazing downtown business locations."
"You can walk from artist to artist, see art in the making, get art insights from the artists themselves, and experience the best of retail and food service in downtown Cornwall."
Cornwall Art Walk is designed to complement and support other community events throughout the year, including the Apples and Art Studio Tour held each September. Downtown Cornwall is also home to two permanent galleries, Cailuan Gallery on Pitt Pitt, and Cline House Gallery on Second Street East.
"The list of artists and businesses is meant to be organic – it will surely change and evolve," says Ms. Davies.  "There will possibly be drama and live music during the evening events as well."
Participating Artists:
Participating artists include:
Rose Desnoyers
Elaine Arkwright
Linda Geisel
Tracy Davies
Sandra Taylor Hedges
Libby Cameron
Mandy Prevost
Brett Desrosiers
Jaqueline Milner
Tracy Lynn Chisholm
Emily McLeod
Carol Ann Breedyk
Participating Venues:
Love Love Food
Cailuan
OBO
Gordon Jewellers
Celtic Treasures
Pure Organic Spa
Fantasy Realm
Jasmar Paint
Schulmans
Stormont Stationers
Dempsters
Oasis
CIBC
Bicycle World
The first Art Walk takes place on June 21. More information can be found on the website of Your Arts Council:
Categorised in: Arts and Entertainment