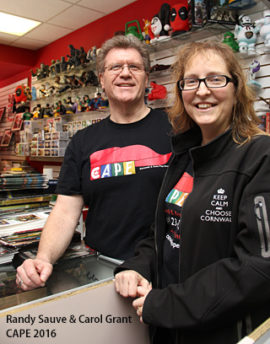 Superheroes Gather in Cornwall
April 19, 2016
Cornwall Ontario – There will be a little bit more spandex on display this weekend as superheroes, wookies, stormtroopers and various other costumed individuals converge on the Benson Centre for CAPE.
CAPE is a two-day exposition to celebrate the ever-popular entertainment genre of super hero story-telling.  CAPE will feature special guests, vendors selling collectibles, and the opportunity to interact with other fans – many of which will be in full costume.
"Once again we expect to see a lot of people in full costume – some that we have invited, but the majority will be fans who will come dressed as their favourite character," says organizer Randy Sauve. "For two days the Benson Centre will be transformed into a 'hall of heroes'. Bring a camera and join the fun!"
One of the special guests will be Marie-Claude Bourbonnais, a well-known cosplayer and a friend to Cornwall.
"Marie-Claude will be debuting a brand-new costume at CAPE, and if you have seen any of her previous work, it will spectacular!" says Mr. Sauve.
Last year CAPE drew over 3,000 people to the event, and similar numbers are expected this year. Mr. Sauve and his partner Carol Grant have been able to secure some top notch guests for the event, including various actors, artists and role-players:
Star Trek – Original Series actors
The Walking Dead – Actors
Clerks – Actors
Rebel Legion and 501st Legion (film-authentic Star Wars characters)
Doctor Who Society of Canada (with Tardis, Daleks and more!)
League of Superheroes (cosplayers in superhero costumes)
New to this year's show will be faithful recreations of some very popular vehicles:  the DeLorean from Back to the Future, Ecto-1 from Ghostbusters and KITT from Knight Riders.
The above guests will be joined by over 125 exhibitors, many of which will be selling clothing, comic books, collectibles and more. There will be a gaming room available for fans looking to play some of their favourite games. The show is so large it will take up two full arenas.
"Excitement has been building over the past several months, and we have had to increase the size of the show space three times," notes Mr. Sauve, who also runs Fantasy Realm, a landmark comics store on Pitt Street in Downtown Cornwall.
Show Times
Saturday April 23 – 10:00 am to 7:00 pm
Sunday April 24 – 10:00 am to 5:00 pm
Free Bus Rides
Cornwall Transit is offering free rides to people attending CAPE.
On Saturday, people will be able to ride Cornwall Transit for free simply by showing their CAPE ticket or telling the driver they are heading to the event. Or better yet, wear a costume!
On Sunday, Cornwall Transit will be providing a free, limited route shuttle to the Benson Centre during the event, which runs from 10 am to 5 pm. The shuttle will make stops and returns to several different spots throughout the City. To see the shuttle itinerary, please click here.
Ticket Info
Weekend Admission – Includes both Saturday and Sunday – $30 ($35 at the door)
Saturday ONLY – $20 ($22 at the door)
Sunday ONLY – $15 ($17 at the door)
Child Admission – FREE for children 12 & under (no ticket required)
Tickets are available at FANTASY REALM located at 227 Pitt Street in Downtown Cornwall.
Tickets will also be available at the Benson Centre on the day of the event.
About CAPE
CAPE stands for Cornwall and Area Pop Event, and is modeled after the popular comic-con events held around the world. The first CAPE was held in 2015 and is organized by Randy Sauve and Carol Grant, two well known business people in Cornwall.
You can learn more online:
Categorised in: Arts and Entertainment