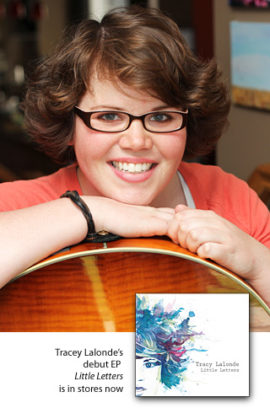 Tracy Lalonde Releases Debut EP Little Letters
March 5, 2014
Cornwall Ontario – Singer Songwriter Tracy Lalonde's highly anticipated debut EP Little Letters is now available. The song entered the iTunes Alternative charts at position 39 and has quickly rose 6 spots to position 33.
Working closely with producer and engineer, Graham Greer (of Barstool Prophets), Ms. Lalonde has brought her five song debut brilliantly to life, eclectically balancing delicate yet eager folk-pop sounds while exploring, with a certain introspection, everyday experiences as inspired by love, literature, and legend.
"The response so far, has been incredible," says Ms Lalonde ."It feels very surreal getting this huge amount nice feedback, but it's definitely wonderful!"
While Tracy has become well-known in the Cornwall area for performing onstage with only her acoustic guitar, the Little Letters EP is inspired by electric demos recorded by Tracy in her bedroom over the past few years and features a vast array of instrumentation ranging from banjo to Hammond organ, to electric guitar, to pots and pans.
In the EP's title track and first single, stunning violin arrangements rhythmically weave in and out of the song's steady crescendo, finally ebbing into a lingering whisper which begs the listener to relish the calm after the storm…before hitting 'replay'.
Little Letters was recorded and mixed at GrahamGreer's home studio in Cornwall, Ontario, and was mastered in Toronto by Juno and Grammy nominee João Carvalho. With the input of such an exceptionally talented team, Tracy Lalonde delivers a polished début effort.
"Graham has played such an important role at every stage of the EP's creation," says Ms. Lalonde. "His input for both the creative and business sides to this was incredibly valuable, and without his help I don't think I'd be anywhere near releasing an EP. It takes me a while to do things sometimes, so it was good having him there, pushing me along and making sure my music got the opportunity to be heard."
Tracy plans to promote the EP with Canada-wide campus and community radio distribution, a music video for the title track (due late-March/early-April), and immediate plans for Ontario dates with a new band are being finalized.
Get your copy of Little Letters
Little Letters is available now on iTunes for $4.95. Physical copies of the EP are available online through Ms. Lalonde's website for $7.00 and are also in stock at The Grind (Cornwall), Life's Little Pleasures (Cornwall), Melody Music (Cornwall), Lalonde's Body Shop (South Lancaster), Town & Country Flowers and Gifts (Alexandria), and all three CD Warehouse locations (Ottawa).
A Facebook page set up for Tracey has garnered 400 fans in just over a week.
"Social media has been my best friend. CDs have been selling fast, but we've got to keep the ball rolling!"
Ms. Lalonde graciously recognizes both the City of Cornwall, and the Ontario Arts Council fortheir generous support and involvement in this project.
You can learn more about Tracy by following these links:
Categorised in: Arts and Entertainment, General, News