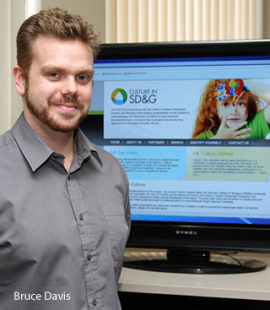 Two Workshops for Cornwall Area Artists
May 17, 2013
Cornwall Ontario – Cornwall and area artists and the people who support them have two great opportunities to learn best practices.
On Thursday May 30th people can choose from two half-day workshops at St. Lawrence College, both of which offer information related to the arts community. The seminars are being put on by an organization called Work in Culture, in association with the Canadian Artists' Representation/Le Front des Artistes Canadiens (CARFAC)
"We're hoping people will be able to attend the workshops," said Bruce Davis, Cultural Development Advisor with S.D. & G.Community Futures Development Corporation. "There is some great content and unlike most other workshops, Work In Culture is offering on-going access to their marketing e-course so if you need a refresher you can always go back."
The two workshops will run concurrently, with one session aimed at helping artists market themselves, and the other aimed at helping staff and volunteers to build a sustainable arts, culture non-profit organization.
Marketing: It's Just Another Conversation, led by marketing expert Judy Brunsek, will explore various marketing tactics that are invaluable to musicians, authors, or artists of any kind. The hands-on, 1/2 day workshop will show how to harness creativity and to market an organization. The workshop will cost $60 + HST, and be located in St. Lawrence College, Room M3520 from 2-5pm.
Success in Transition, led by former Arts Ottawa East executive director, Christine Tremblay, will use a case study and self-assessment tools to teach Boards of Directors and the staff of arts, culture, and not-for-profit organizations how to explore steps and strategies that reflect the needs of the organization, and how to transition into a strong, sustainable organization. The ½ day workshop will also run from 2-5 in St. Lawrence College, room M3530. The workshop will cost $35 + HST.
The newly formed Cornwall & The Counties Arts and Culture Council is helping to promote and host these two workshops.
"Work In Culture and CARFAC are great partners who are excited to be offering these workshops in Cornwall," said Mr. Davis.
To register visit www.workinculture.ca.
About The Cornwall & The Counties Arts and Culture Council
The Cornwall & The Counties Arts and Culture Council works with strategic partnerships to connect resources and creates opportunities for continuous improvement and mutual financial sustainability, within the Arts and Culture Sector and the Region of SD&G and the City of Cornwall.
About Work in Culture
Work in Culture is a provincial organization whose mission is to support the people who work in the cultural sector through life-long career development and business skills training.
About CARFAC
CARFAC is a non-profit corporation mandated to promote the visual arts in Canada to offer great marketing information to aspiring artists in the area.For more information on Work in Culture go to http://www.workinculture.ca/.   or more information on http://www.carfac.ca/
Categorised in: Arts and Entertainment, General, News