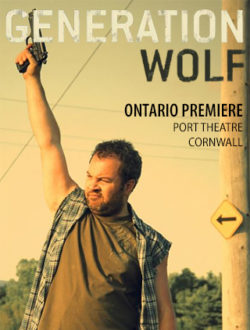 Tyler Murree Stars in Generation Wolf
November 18, 2016
Cornwall Ontario – Tyler Murree is in Cornwall tonight to screen a showing of his first feature-length film at the Port Theatre.
Generation Wolf is a thriller movie about Vincent Del Toro, a young entrepreneur who runs into trouble with his electric car company. Mr. Muree plays an old school friend of Vincent who offers a dangererous solution to his money troubles.
In the trailer of the film, Mr. Murree's acting chops are on full display. It is a role that offered a lot of fun for the versatile actor.
"It was a real departure for me, I do not often get to the play the bad guy," laughs Mr. Murree. "It was a chance to stretch out and show people what I can do."
The film was shot in Montreal and Bromont Quebec two summers ago. Mr. Murree was able to stay closely connected with his family in the Cornwall area during shooting.
"It was a true independent film and a lot of fun," says Mr. Murree. "The hatchback of my Mom's SUV became my trailer and I was able to spend time with my family during my days off."
The film stars Christian de la Cortina, who directed the film and co-wrote the screenplay. Mr. de la Cortina will be in Cornwall tonight for the Ontario premiere of the film.
"This is really Christian's film," says Mr. Murree. "He really did a great job – the story keeps you on the edge of your seat and the film look fantastic."
Reviews have been very positive so far and the film has been nominated for best feature at the Hamilton Film Festival.
The film is being shown tonight at the Port Theatre.  Tyler Murree and Christian de la Cortina will hold a Q&A immediately following the screening.  All Seats are $7.50.
About Generation Wolf
Vincent del Toro is part of the Generation Wolf. A generation of ambitious people whose dreams are bigger than their fears. Nothing will stop them from achieving their goals. Vincent took the risk to found his own company, Del Toro Green Motors, in sunny California. His company specializes in refurbishing vintage cars and converting them into electric cars. When a problem arises with the licensing bureau, Vincent is suddenly blocked from selling his cars, jeopardizing his business.
In order to save his dream and his father's house from bank repossession, Vincent finds himself tempted into other means of earning money. As Vincent falls deeper into the world of crime, he soon realizes his situation grows more brutal and dangerous than he ever imagined. But as a wolf, he will have to find a way to survive.
About Tyler Muree
Raised in the Cornwall area, Tyler Murree is an actor known for his work on stage productions such as Les Misérables, Lion King, The Lord of the Rings: The Musical and Dirty Dancing. He has appeared on the small screen in TV shows such as CBC's Kim's Convenience and Murdoch Mysteries, BBC America's Orphan Blackand Copper, and the hit Nickelodeon shows: Make it Pop, Max & Shred, The Other Kingdom and Life With Boys.
Mr. Murree will return to the cinemas as a small-minded math teacher in the upcoming movie, Jazz Hands,which is scheduled for release in 2017.
Categorised in: Arts and Entertainment