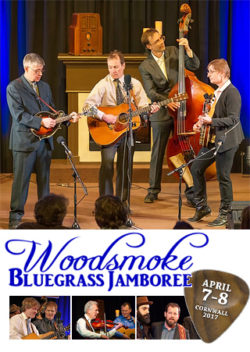 Woodsmoke Bluegrass Jamboree Returns to Cornwall
March 28, 2017
Cornwall Ontario – Fans of bluegrass music will be gathering at the Nav Centre this month for the Woodsmoke Bluegrass Jamboree.
"The Woodsmoke Bluegrass Jamboree is an old time acoustic music show presented in a format similar to the Grand Ole Opry," says organizer Darwin Thom. "It's a lively show of handmade music and strong vocal harmonies."
Bluegrass is considered to be the 'original country music'.   The Jamboree attracts about 35 top-notch bluegrass musicians performing in various bands and making guest appearances with other bands. They perform in three separate shows over the course of two days. After the music shows, the performers come out to play music with the audience.  Many jams breakout all over the NAV Centre common areas.
This is the 6th year the Jamboree has been held in Cornwall.
"Cornwall is a great location central to Ottawa, Montreal and Kingston," says Mr. Thom.  "Bluegrass fans will typically travel 100 – 200 kms to attend a show."
The event typically attracts 300 attendees, many of which stay for the weekend.
"NAV has a professionally designed music theater with comfortable setting and excellent acoustics," says Mr. Thom.  "The building becomes our home for a couple of days, with many of our guests getting together for impromptu jams after the shows are over."
Show Times and Tickets
Woodsmoke Bluegrass Jamboree is open to the public. The event includes three separate shows:
Friday April 7 – 7:00pm – 10:00pm
Saturday April 8 – 1:00pm – 5:00pm
Saturday April 8 – 7:00pm – 10:00pm
Weekend passes are $50 ($60 at the door) for all three shows. Individual show tickets can also be purchased at $25 per show.
Tickets are available online at: https://sites.google.com/site/woodsmokebluegrass/ticket-reservation as well as at the following outlets:
Renfrew –  Mill Music – 25 Argyle St. (613-432-4381)
Ottawa –   Lauzon Music – 1345 Wellington St. (613-725-1116)
Cornwall – Melody Music Centre -104 Pitt St. (613-933-0205)
Kingston – Long & McQuade – 1057 Midland Ave. (613-384-9225)
About Woodsmoke Bluegrass Jamboree
Woodsmoke Bluegrass is a not-for-profit event for the purpose of preserving and promoting live, acoustic music.  You can learn more online:
Categorised in: Arts and Entertainment