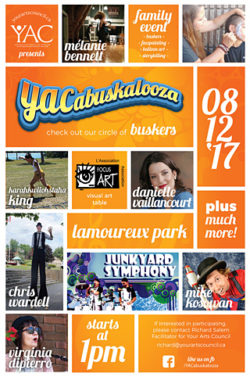 YACabuskalooza Brings Buskers to Lamoureux Park
August 1, 2017
Cornwall Ontario – Looking for something a little bit different this summer?
YACabuskalooza is a festival that is bringing different acts coming from different areas to charm and entertain the people of Cornwall on Saturday August 12. These street acts, or "buskers", have a variety of talents that are both endearing and fascinating.
This will be the second YACabuskalooza put on by Your Arts Council, following a successful 2016 festival that attracted over 300 people to Lamoureux Park.
"We are expecting about 1,000 spectators this year," says Richard Salem, Facilitator for Your Arts Council.  "It is a free, family-oriented event with amazing talent from our region and beyond."
While last year's festival had mostly local entertainers, this year the line-up features acts coming from other regions such as Montreal and Ottawa.
"All the acts are definitely worthwhile seeing," says Mr. Salem. "Junkyard Symphony is great because they do different acrobatics with recyclable materials. Mike Kosowan is also a great street performer hailing from Ottawa."
Local artists will also have a chance to showcase their talent. Mélanie Bennett is taking the stage and singing with a dance troop behind her, and Danielle Vaillancourt will be singing opera with a cellist by her side.
As for the schedule of the event, it will run a little differently compared to your typical music festival. The day starts at 1:00 pm with face painting and street acts roaming the park. At 2:00 pm until 3:40 pm, each act will have 10 minutes on stage to perform. The buskers will then perform all over the park for the remainder of the day, like a true street music festival.
Besides great acts, face painting, storytelling, balloon sculptures and a Focus Art tent will also be featured at the festival.
Full Entertainment Lineup
• Karahkwiiohstaha King
• Junkyard Symphony
• Mike Kosowan
• Chris Wardell
• Virginia Dipierro & Friends
• Mélanie Bennett & Friends
• Danielle Vaillancourt & Friends
• Many more acts!
For more information, please follow these links:
About Your Arts Council
Your Arts Council works with strategic partnerships to connect resources and create opportunities for continuous improvement and mutual financial sustainability, within the Arts Sector and the Region of SD&G and the City of Cornwall.
Categorised in: Arts and Entertainment