Arts in the Park – Music by the Riverside
June 27, 2019
Cornwall Ontario –  Arts in the Park series is back with another summer of amazing entertainment in Lamoureux Park.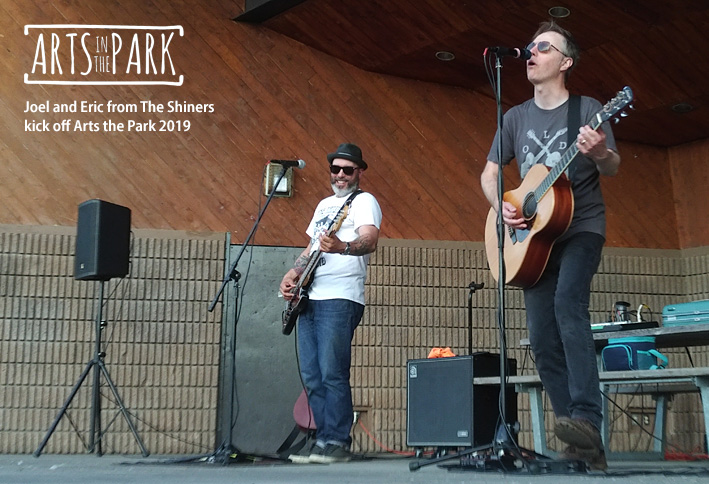 The 34th season of Arts in the Park will feature 22 outdoor concerts along with an outdoor movie and a Shakespeare in the Park show. Best of all, it's free to attend!
"We're really excited about this year's line-up," said Lorne Taillon, Leisure Arts Coordinator with the City of Cornwall. "We've got an awesome mix of entertainment that is sure to satisfy all tastes and interests."
The free shows start at 7 pm (weather permitting) at the Lion's Club Bandshell in Lamoureux Park. There is free parking available behind the bandshell as well as the nearby Cornwall Civic Complex.
"It's a chance to enjoy some great entertainment in our beautiful waterfront park with family and friends," Mr. Taillon added. "Bring a lawn chair and join us in the park!"
2019 Arts in the Park Highlights
Saline Fiddlers Philharmonic
The series continues the following night, Thursday, June 27th, with a special performance by the Saline Fiddlers Philharmonic. Hailing from Saline, Michigan, this ensemble astounds audiences every time they take the stage. The musicians, all from Saline High School, present an energetic and polished show that features a diverse range of music from American folk, fiddle, bluegrass, jazz, western swing, and Celtic traditions. Spirited vocals and Appalachian step dancing combine with the instrumentals to create an unforgettable live performance.
Movie in the Park
The popular Movie in the Park returns on Friday, July 12th with a family-friendly movie set to be shown on a giant outdoor screen in Lamoureux Park. Showtime is 9 pm.
Shakespeare in the Park
Montreal-based Repercussion Theatre will return to Cornwall again this summer for another Shakespeare in the Park performance on Sunday, July 21st. Come out and enjoy live theatre under the stars!
In addition to the shows above, a number of fan-favourites will be returning to the series this year, including the Moe Lemieux Quartet, Seaway Winds Concert Band, Mike McAnany & Intrepid, Bruce Ciccarelli, Revival, Switchgear, the Clarpian-Duo, the Roxanne Delage Trio, Bordertowne Boys, Mr. C & The Hometown Horns, Radio Nova, Ruby Tuesday Dixie Band and much more!
Canada Day Weekend
Lamoureux Park will also be rocking on Canada Day weekend with three full days of live music. First up is Cornwall Rocks, a two-day concert series featuring great local acts, emerging artists and tribute bands dedicated to some of the biggest names in rock!  The concerts run on Saturday, June 29th and Sunday, June 30th and full weekend passes are only $10!
Cornwall's annual free Canada Day celebration in Lamoureux Park on Monday, July 1st. This year's Canada Day event will feature children's activities, food vendors, a fireworks display at approximately 10 pm and a full day of live entertainment. Cornwall rockers Barstool Prophets will headline the Canada Day celebration in Lamoureux Park along with talented Cornwall songstress Melanie Brulée!
For the full breakdown on Cornwall's Canada Day celebrations, visit www.CornwallCanadaDay.ca.
Additional Information
For additional information on Arts in the Park, including the full program brochure, please visit www.Cornwall.ca/ArtsinthePark.
You can also get updates on Arts in the Park events by following their Twitter page and Facebook page.
Categorised in: Arts and Entertainment, Community, General, News