Aultsville Filmfest Returns With Diverse Lineup
January 21, 2019
Cornwall Ontario – Engage, enlighten and entertain.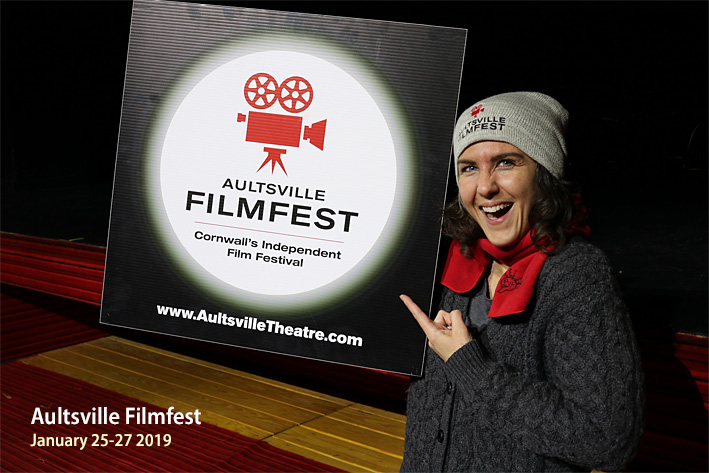 That's the main purpose behind the popular Aultsville Filmfest, which kicks off this Friday at Cornwall's Aultsville Theatre. And given this year's line-up of films, it's sure to meet that purpose – and then some.
The 13th edition of Aultsville Filmfest returns with screenings of eight diverse films over three days. The organizing committee selects the films through the Toronto International Film Festival – Film Circuit which helps distribute independent films to small communities. It also gives organizers plenty of variety to choose from.
To that end, this year's line-up has a little bit of everything, from documentaries and dramas to comedies, a character piece in black and white, and an entry from Russia – a first for the Filmfest.
"We have a great mix of foreign films," said organizing committee member Melanie Baker-Brown. "It will take your mind and heart on a bit of a journey over the weekend."
The films always have an impact, but the conversations that stem from them by the festivalgoers are just as eye-opening.
"I love our audience. They're so trusting and so open to what (films) we bring to them," Mrs. Baker-Brown added. "The conversations are always so respectful and healthy. It's a fun thing to be a part of."
This year's festival kicks off on Friday, January 25th at 5:30 pm with a screening of the documentary thriller Expo '67 – Mission Impossible. Filmmaker Eric Ruel will be in attendance to introduce the film and entertain a question and answer session afterwards.
"That film will bring back lots of memories for people (in the area)," said Mrs. Baker-Brown.
That will be followed by a welcome reception for passholders before the screening of the British dark comedy The Party at 7:45 pm.
After opening night, the fun continues for film buffs on Saturday, January 26th and Sunday, January 27th with three screenings each day, with a reception prior to the Saturday evening screening (see below for the full film list).
Now in its 13th year, the Aultsville Filmfest has grown to become a must-attend event for many in the region.
"It's become a weekend where people have the same guests and they come every year," said Mrs. Baker-Brown, noting there's a growing number of out-of-town visitors who make a point of attending for the movies, food and fun conversation.
Ticket information
A full weekend pass to the filmfest is $130, and that includes all eight movies as well as the social events.
Tickets to individual movies are also available for $15 for adults and $10 for students.
Passes and tickets can be purchased at the Civic Complex Box Office (Monday to Friday, 8:30 am to 4:30 pm), by phone at (613-938-9400) or online (click here). They are also available at the Aultsville Theatre Box Office one hour prior to show times (subject to availability).
Filmfest Lineup
All festival screenings take place at Aultsville Theatre. The filmfest lineup is as follows:
Friday January 25th, 2019 at 5:30 pm
EXPO '67 – Mission Impossible (with special guest Eric Ruel, filmmaker)
This documentary thriller invites us to relive the incredible adventure of the men behind Man and His World. Over time, tongues have loosened and the full story can now emerge, just like Notre-Dame Island out of the waters of the St. Lawrence.
(Welcome reception between screenings for pass holders)
Friday January 25th, 2019 at 7:45 pm
The Party (UK)
Janet (Kristin Scott Thomas) is hosting an intimate gathering of friends in her London home to celebrate her political ascension, while her husband, Bill (Timothy Spall), seems preoccupied. Janet's acerbic best friend, April (Patricia Clarkson), arrives and others follow, some with their own dramatic news to share, but an announcement by Bill provokes a series of revelations that gradually unravel the sophisticated soiree, and a night that began with champagne may end with gunplay.
Saturday January 26th, 2019 at 1:30 pm
The Cakemaker (Germany/Isreal)
Thomas, a young German baker, is having an affair with Oren, an Israeli married man who has frequent business visits in Berlin. When Oren dies in a car crash in Israel, Thomas travels to Jerusalem seeking for answers regarding his death. Under a secret identity, Thomas infiltrates into the life of Anat, his lover's newly widowed wife. The encounter with the unfamiliar reality will make Thomas involved in Anat's life in a way far beyond his anticipation, and to protect the truth he will stretch his lie to a point of no return.
(Refreshments between screenings for pass holders)
Saturday January 26th, 2019 at 4:00 pm
The Death of Stalin (UK/France/Belgium)
The one-liners fly as fast as political fortunes fall in this uproarious, wickedly irreverent satire from Armando Iannucci (Veep, In the Loop). Moscow, 1953: when tyrannical dictator Joseph Stalin drops dead, his parasitic cronies square off in a frantic power struggle to be the next Soviet leader.
(Cocktail reception between screenings for pass holders)
Saturday January 26th, 2019 at 7:00 pm
Loveless (Russia)
Zhenya and Boris are going through a vicious divorce marked by resentment, frustration and recriminations. Already embarking on new lives, each with a new partner, they are impatient to start again, to turn the page – even if it means threatening to abandon their 12-year-old son Alyosha. Until, after witnessing one of their fights, Alyosha disappears.
Sunday January 27th, 2019 at 11:30 am
The Third Murder (Japan)
Leading attorney Shigemori takes on the defence of murder-robbery suspect Misumi who served jail time for another murder 30 years ago. Shigemori's chances of winning the case seem low – his client freely admits his guilt, despite facing the death penalty if he is convicted. As he digs deeper into the case, as he hears the testimonies of the victim's family and Misumi himself, the once confident Shigemori begins to doubt whether his client is the murderer after all.
(Refreshments between screenings for pass holders)
Sunday January 27th, 2019 at 2:30 pm
Itzhak (US)
Alison Chernick's enchanting documentary looks beyond the sublime musician to see the polio survivor whose parents emigrated from Poland to Israel, and the young man who struggled to be taken seriously as a music student when schools saw only his disability. Itzhak himself is funny, irreverent and self-deprecating, and here his life story unspools in conversations with masterful musicians, family and friends, and most endearingly his devoted wife of 50 years, Toby.
Sunday January 27th, 2019 at 4:30 pm
Le Grand Bain (France)
A group of 40-something guys, all on the verge of a mid-life crisis, decide to form their local pool's first ever synchronized swimming team – for men. Braving the skepticism and ridicule of those around them, and trained by a fallen champion trying to pull herself together, the group set out an unlikely adventure, and on the way will rediscover a little self-esteem and a lot about themselves and each other.
About Aultsville Theatre
Aultsville Theatre is located on the campus of the St. Lawrence College, along the shores of the scenic St. Lawrence River. Audiences and performers alike enjoy excellent acoustics, sight lines, reception and ambiance  in the 658-seat theatre. Aultsville Theatre is governed by a volunteer Board of Directors that manages the theatre as a non-profit, charitable organization.
For more news on what's happening at the Theatre, please visit
Categorised in: Arts and Entertainment, Community, General, News