Aultsville Filmfest to Showcase Eight Films
January 24, 2020
Cornwall Ontario – Cinemas fans from across the region are making time for the Aultsville Filmfest, which will air 8 films over 3 days starting January 24.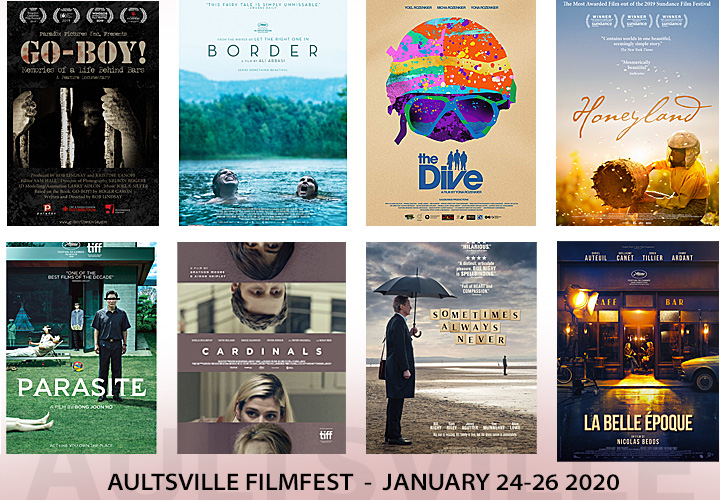 "We are excited to bring Filmfest back for a 14th year, says Janet Martel, General Manager of Aultsville Theatre. "We have folks from Ottawa, Toronto, Montreal and beyond who come just for this event and and stay for the weekend."
This year's line up includes films from Sweden, France, United Kingdom , Macedonia, South Korea, Israel, Canada and USA. Films are selected from the Toronto International Film Festival – Film Circuit which helps distribute independent films to small communities. Other films are sourced by the committee to ensure a diverse festival journey.
The Aultsville Filmfest is an annual event that brings Independent Film to Cornwall, and raises money to support operations and refurbishment at Aultsville Theatre.
The Film Lineup
Friday January 24th, 2020 at 6:30PM – Go Boy (Canada)
Friday January 24th, 2020 at 9:00PM – Border (Sweden)
Saturday January 25th, 2020 at 1:30PM – The Dive (Israel)
Saturday January 25th, 2020 at 3:30PM – Honeyland (Macedonia)
Saturday January 25th, 2020 at 7:00PM – Parasite (South Korea)
Sunday January 26th, 2020 at 12:00PM – Cardinals (Canada)
Sunday January 26th, 2020 at 2:00PM – Sometimes Always Never (United Kingdom)
Sunday January 26th, 2020 at 4:00PM – La Belle Epoque (France)
Festival Passes and Tickets
A Full Weekend Pass is available for $130  which includes all 8 movies + social events. Individual movie tickets are also available for $15  ($10 for students)
Tickets can be purchased online at www.ticketpro.ca or at the Aultsville Theatre Box Office 1 hour prior to show time (subject to availability).
About Aultsville Theatre
Aultsville Theatre is located on the campus of the St. Lawrence College, along the shores of the scenic St. Lawrence River. Audiences and performers alike enjoy excellent acoustics, sight lines, reception and ambiance  in the 658-seat theatre. Aultsville Theatre is governed by a volunteer Board of Directors that manages the theatre as a non-profit, charitable organization.
For more news on what's happening at the Theatre, please visit
Categorised in: Arts and Entertainment, Business, News