Bathintentions Expands into New Manufacturing Facility
December 15, 2022
Cornwall Ontario – Bathintentions has recently expanded into a new 2000 square foot production facility that will support significant growth for the former home-based business. The new location also offers a retail space for customers to purchase products in store complimenting the online store.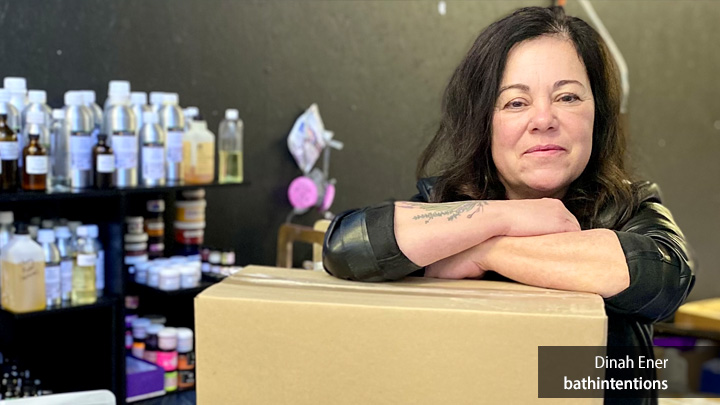 The business has come a long way since they first started selling bath bombs to friends and family in 2016. Created by co-founders and mother/daughter team Alaya and Dinah Ener, bathintentions creates bath and body products handcrafted in an artisan fashion; including 40 to 50 unique products such as bath bombs, shower steamers, soaps, scrubs and lotions. With the recent move to Boundary Road bathintentions plans to use the additional space to increase production and take on additional staff.
At a young age, co-founder Alaya Ener brought her love of life and determination to building a business she loved. In 2018 at age 16, Alaya lost her fight with cancer but Dinah kept her vision alive through the business she created and loved.
"We believe that business, and life is about caring and strong relationships through good and bad times," says Ms. Ener.  "Our business is supported by an incredible tribe of women to help carry on our programs, product innovation and life honoring Alaya's spirit".
Over the past few years Dinah has continued to grow and expand the company's product line.  In 2021, she was the successful recipient of the Starter Company Plus grant administered through the Cornwall Business Enterprise Centre.  The program helped connect her to a specialized Amazon training program through Innovation Guelph.
The company continues to think of innovative ways to reach their customers and takes advantage of the programs offered to help small businesses succeed.
"We are working with Loyalist College, to develop a new innovative option that will really set us apart from our competition," said Ms. Ener. "Stay tuned for more!"
Bathintentions now holds the top selling bath and shower product business on Amazon.ca and is gearing up to hit almost a million dollars in sales.
About Bathintentions
The family-owned company is rooted in a powerful mother-daughter bond, the courage and resilience to face devastating circumstances and unwavering support of community. You can learn more about Bathintentions and the products it makes on the website:
This article originally appeared on BusinessEnterpriseCentre.ca. Bathintentions was featured in the 2022 Year in Review report by Cornwall Economic Development.